Silvus Technologies demonstrated its MIMO radio repeater capability integrated into QinetiQ's TALON and iRobot's FasTac robots at the Army Expeditionary Warfighters Experiment (AEWE) Spiral G. TARDEC's Ground Vehicle Robotics group requested Silvus to integrate its SC3500 MIMO radio into both robotic platforms as part of TARDEC's ISR Mission Concepts platform.

Contributed by | Silvus Technologies
The Silvus SC3500 dual band MIMO radio is a mobile ad-hoc mesh network IP based packet transceiver that delivers cutting edge technology and superior video/command/control data to the operator. It can scale to dozens of nodes in a network and provide an aggregate throughput in excess of 10 Mbps.
The SC3500 integrates easily into both systems using the QinetiQ IP conversion kit for the TALON and a Silvus Integration Kit for Packbots, allowing for a quick bolt-on conversion and operation in a mesh network or repeater configuration. 3 dBi omni antennas were used on all radios with 1 Watt total TX power. The soldiers were instructed not to worry about antenna placement.
The repeater setup was tested in a variety of training missions conducted by the U.S. Army infantry. Some of the missions conducted were:
Reconnaissance / Surveillance into urban terrain
Forward Operating Base security
Defense of urban stronghold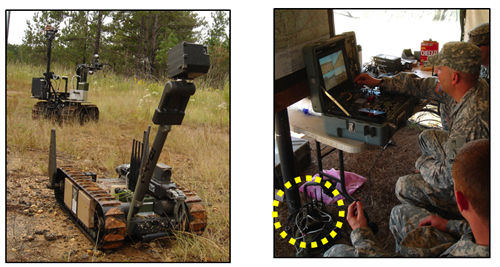 Silvus SC3500 integrated into FasTac & TALON, note the Silvus radio on the ground with the soldiers
Results
The Silvus radios extended the range over existing comms systems used in robots. When applied to infantry missions, it provided them with advanced reconnaissance and surveillance capabilities of their objective from safe standoff distances taking them out of harms way. Using a repeater setup provided:
500 meters NLOS range in variable field terrain such as rolling hills and vegetation
500 meters NLOS into urban centers
No need for directional antennas, soldiers focused on missions, not antenna setup
Either robot could be used as repeater at any time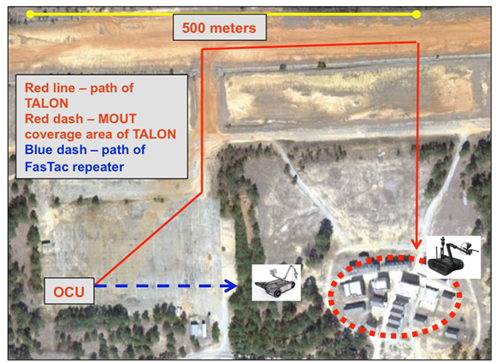 Silvus repeater setup: FasTac in treeline while TALON maintains coverage through entire urban area
Warfighter Review

U.S. ATEC (Army Test and Evaluation Command) polled infantry soldiers polled using Silvus' MIMO radios who feel the SC3500 is ready for war. They determined a user 'take to war' score of 3.7 out of 4.

About Silvus Technologies
Founded in 2004, Silvus is an innovative company focused on advanced cost effective multi-antenna "MIMO" radio solutions for the commercial and military markets. Silvus is also a leader in carrying out state of the art R&D for next generation wireless communications.
Silvus is at the forefront of delivering MIMO based solutions to the military and first responder communities. Silvus has been the sole performer on the multimillion, multi-year Defense Advanced Research Projects Agency's Mobile Networked MIMO (MNM) program. Other government sponsored work has focused on specific applications of MIMO technology to robotic systems, air to ground applications and wireless video. Silvus holds the distinction of being the only communications company working under the JGRE-RTC (Robotics Technology Consortium) program to deliver improved radio links for telerobotic EOD missions.
---
Comments (0)
This post does not have any comments. Be the first to leave a comment below.
---
Post A Comment
You must be logged in before you can post a comment. Login now.
Featured Product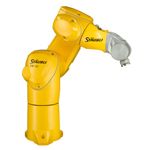 TX2 series of robots: the next generation of fast and precise 6-axis robots. This new robot range is redefining performance with the optimum balance of speed, rigidity, size and envelope. Those pioneer robots can be used in all areas, including sensitive and restrictive environments thanks to their unique features. Known worldwide for the quality of our design and innovation for more than a century, the Stäubli Group has brought its renowned engineering expertise and technological ingenuity to the forefront of robotics. Since 1982, we have built a highly regarded robotics business, and more significantly, transformed the way thousands of manufacturing operations perform. Today Stäubli Robotics is a leading player in robotics around the world, consistently delivering engineering as effective and reliable as our service and support.