At this point, we need to discuss the strengths and limitations of process automation with collaborative robots.
Getting Started with Collaborative Robots - Part 2 - How to Identify Potential Processes for Automation
Contributed by | Robotiq
At this point, we need to discuss the strengths and limitations of process automation with collaborative robots.
In fact, you probably already have a bunch of ideas as to what processes you would like to have automated. I am afraid to say that most of the tasks you thought were good candidates for automation are probably not the best choices to begin with. We need to be realistic about what the technology can do today. Some applications are easier to automate than others and as a first integration you should start small and simple.
Ideal tasks for a first collaborative robot are tasks that are highly predictable and repeatable. These are easiest to automate with a collaborative robot.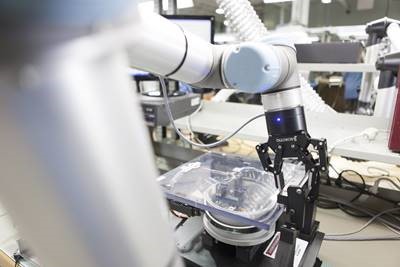 Tasks that are highly repetitive, predictable and structured are the easiest to automate with a collaborative robot.
Here's an overview to get you thinking:
Easy to automate
Repetitive tasks not requiring the robot to apply force

Pick and place
Dispensing

Part presentation

Little part changeover or changeover among similar parts
Always picked in the same place
Ordered parts and workpieces
If many parts, structured in a matrix or tray

Part drop-off

Always dropped in the same place

Harder to automate
Complex logic or decision making
Sensors

Vision
Force torque sensor

Parts

High changeover rates of parts with divergent properties (size, shape)
Deformable parts

Part presentation

Moving conveyors
Unstructured presentation (bins)

Integrating communication with other machines
Force controlled processes

Grinding
Polishing
Drilling
Fine assembly

Processes requiring specialized tools or human know-how
Tip: To create a quick simulation, perform the task and think about whether you could do the same task without seeing or feeling the part, its weight or the force applied by the part. In other words, could you do it blind? This will give you an indication of what kind of sensors you will need.
ROBOTIQ MAKES TOOLS FOR AGILE AUTOMATION

Robotiq's mission is to free human hands from tedious tasks so companies and workers can focus where they truly create value.
Our grippers and sensors enhance robot application flexibility and integration simplicity.
Our products are sold and supported in more than 30 countries, through a network of highly capable channel partners.
---
Comments (0)
This post does not have any comments. Be the first to leave a comment below.
---
Post A Comment
You must be logged in before you can post a comment. Login now.
Featured Product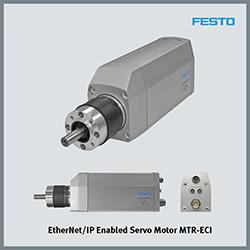 Mechatronic Motion Solutions from Festo is a unique system of components, modules, and software. It integrates all types of pneumatic, servopneumatic and (electro)mechanical automation motion and combines them according to your task. Irrespective of the control system environment you use, Mechatronic Motion Solutions always provides the appropriate interfaces. The fingers can be actively moved and their strength amplified; the operator's hand movements are registered and transmitted to the robotic hand in real time. The objectives are to enhance the strength and endurance of the human hand, to extend humans' scope of action and to secure them an independent lifestyle even at an advanced age.