Manufacturing

Marketing Partner
---

Omron Adept Technologies, Inc.
Omron Adept is a leading provider of intelligent robots and autonomous mobile solutions and services that deliver precision, speed, quality and productivity in assembly, handling, packaging, testing, and logistical processes. Omron Adept has a comprehensive portfolio of high-performance motion controllers, application development software, vision-guidance technology and high-reliability robot mechanisms with autonomous capabilities.
---
Mailing Address:
4550 Norris Canyon Road, Suite 150
San Ramon, CA 94583
United States of America
Tel: 925-245-3400
Fax: 925-245-3555
Email: info@adept.com
Website: http://www.adept.com/
Company Category: Industrial Robotics
Geographic Region: USA - South West
Company Sector: Manufacturing
Keywords: SCARA robots, six-axis robots, mobile robots, parallel robot
Partner Status: Marketing Partner
---
Products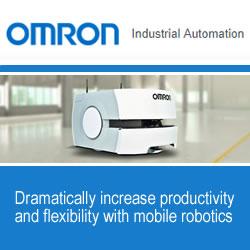 The Omron Adept Lynx Cart Transporter is an Autonomous Intelligent Vehicle (AIV) designed to attach to movable carts and transport them from a pickup location to a drop off location. Applications include line-side inventory replenishment, moving flow racks, transporting Work in Progress (WIP) between process steps, and moving finished goods to the warehouse. The Lynx Cart transporter leverages Natural Feature Navigation to autonomously find a path through the facility without the need for any facility modifications necessary.
---
Articles
As the automation industry begins its reach into the cloud, manufacturing communities will not only improve productivity, they will begin to reclaim the prominence the industry once claimed in the economy.
A 'seeing' robot can flexibly pick up, recognize and measure wafers, solar cells and even whole modules and then place the gripped objects with great precision and speed.
Today's ultra-thin solar cells require precise and gentle handling. And with the increasing demand on solar manufacturers for product, automation must deliver the highest throughput possible.
---
---