Manufacturing

Marketing Partner
---

REIKU Drossbach
Almost 85% of Robotics Downtime can be directly attributed to cable or hose failures. For over 40 years REIKU has been recognized as the Global Leader in Hi Tech Cable Protection Systems. The cost of production downtime and the eventual replacement of failed cables and hoses can be dramatically reduced or even eliminated with REIKU Robotic Cable Management System Solutions. REIKU works closely with all of the major Robot manufacturers developing "customer oriented system solutions".
---
Mailing Address:
1500 Commerce Drive
Stow, OH 44224
United States of America
Tel: 1-800-841-5804
Fax: 330-688-8465
Email: requestinfo@reikuna.com
Website: http://www.reikuna.com
Company Category: Industrial Robotics
Geographic Region: USA - North East
Company Sector: Manufacturing
Keywords:
Partner Status: Marketing Partner
---
Products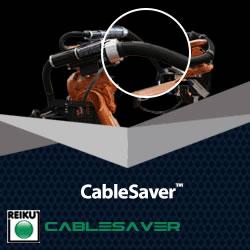 REIKU's patented Cable Saver™ and component solutions can be designed or adapted to be installed on any Robot. Robotic system components are available in 7 different sizes simply visit www.reikuna.com and use our convenient online size calculator to determine which size of REIKU components your application needs.
---
Articles
This Company does not currently have any Articles
---
Press Releases
This Company does not currently have any Press Releases
---