Robotics Company Directory
Manufacturing -

Marketing Partner

Rolls Battery
Surrette Battery Company, the exclusive manufacturer of Rolls Battery, is one of North America's leading lead-acid battery manufacturers. Established in 1935, with a production facility in Salem, Massachusetts, Surrette Battery Company relocated to Canada in 1959 and is the Nation's only remaining independent battery manufacturer.
Mailing Address:
PO Box 2020, 1 Station Road
Springhill, Nova Scotia B0M 1X0
Canada
Tel: 1-800-681-9914
Fax:
Email: sales@rollsbattery.com
Website: http://www.rollsbattery.com
Geographic Region: Canada - East
Company Sector: Manufacturing
Link Library Category: manufacturers - hardware and parts
Keywords: battery engineering
Partner Status: Marketing Partner
Hot Products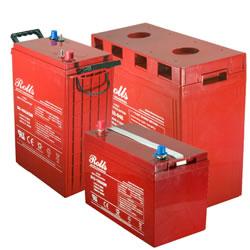 Now, Rolls Battery has introduced a full range of AGM maintenance free batteries to their lineup. Useful in a wide range of installations and backed by a solid reputation, exceptional service and an industry-leading warranty that can only be found with a Rolls Battery. Rolls Battery AGM line is available in 6V, 12V & 2V models and in a variety of size and AH ratings to meet your needs. Each sporting the trusted name, red case, customer service and longevity you've come to depend on from Rolls.
(Category: Hardware Bits and Pieces)
Press Releases
This Company does not currently have any Press Releases