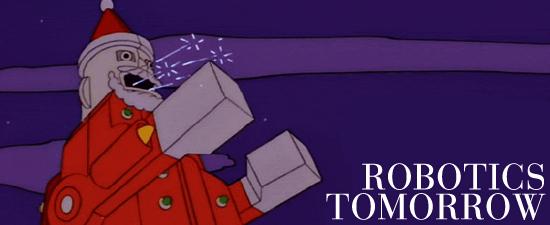 Articles

Using Robots to Clean Oil Spills

12/01/13, Len Calderone for, RoboticsTomorrow
As this technology is still in its infant stages, we do not truly know how efficient the process will be. We can only hope that the technology will be there when the next spill happens.

ABB Robotics' Introduces 7th Generation IRB 6700 Family Of Large Robots
12/01/13, L Hetherington for, RoboticsTomorrow
ABB Robotics has introduced the IRB 6700 robot family, its seventh generation of industry-leading, large industrial robots.

Hunters: A Good Patent is Good, a Great Lawyer is Even Better
12/01/13, The Insider
There has to be some way to separate the wheat from the chaff, the frivilous/worthless lawsuits from the honest patents based on hard, sweaty creative efforts that deserve protection.

Harvest Automation Robots Space Over 40,000 Poinsettia Plants in Four Days
11/15/13, Contributed by, Harvest Automation
Harvest Automation robots are designed to work around the clock, they never need a break, and can handle the most tedious and repetitive work on a Nursery or Greenhouse operation with consistent accuracy and on-time performance.

Air Force Research Lab Uses TORC's Robotic Conversion Kits for Robotic Assault-Zone Survey Vehicle
11/15/13, Contributed by, TORC Robotics
TORC's unmanned ground vehicle (UGV) conversion kits, which maintain the ability for optionally manned operation, offer the proven capabilities and modularity necessary for AFRL to scale from one prototype to production quantity.

Interviews

Highspeed Frame Capture Interface With MatLab
11/15/13, Donal Waide, BitFlow

CoaXpress and MatLab integration offer options where previously none existed. The ability to have a controllable high speed camera at distances greater than 7m wasn't a possibility before, without the use of extenders and other potential hardware failures.

Robotics in Education
10/15/13, Guy Cefalu, GEN2 Robotics
Robotics and STEM education can be deployed as part of other school curricula, and not just science. As an example, there are programs in which teachers are using robotics in art and history classes.

More Articles

11/01/13, Len Calderone for, RoboticsTomorrow
The Association for Unmanned Vehicle Systems International projects that the integration of UAVs would have an $82 billion economic impact on the economy by adding 100,000 jobs from 2015 to 2025.

The Savior Aerial Robot (Pars)
11/01/13, Contributed by, RTS Research Group
The Savior Aerial robot is designed in a way that it can quickly move towards drowning people by user guidance and activates its savior system. This system releases life tubes for the drowning ones.

3D Printing Helps German Manufacturer Seuffer Cut Tooling Costs for Prototype Parts by 97%
11/01/13, Contributed by, Stratasys
Companies worldwide are looking to introduce significant efficiencies to their manufacturing processes when introducing new products, and are discovering the many benefits of additive manufacturing, also known as 3D printing.
Publish Your Story at RoboticsTomorrow
The process is very simple. Just email the article (news@roboticstomorrow.com) along with any diagrams, photos etc. that you wish to have included. Length is not restricted. We do all the formatting and title graphics etc. and then let you preview the finished product before it goes live. Biographies and company links can also be included.

Please bear in mind that we seek educational articles focusing on the technologies and benefits to readers rather than simple product cut sheets and promotional material.
Publish Your News
Just copy and paste your company press releases and they will be added to the news page.
Free Service / Free Company Directory Listing
Click Here to get started
About RoboticsTomorrow
RoboticsTomorrow is a community website where those of you who work in the Robotics Industry are invited to contribute articles, news and product information for your peers to read and discover. Our philosophy is to create an outlet where the industry can report on itself.
Please take a moment to look around the site and give us some feedback. Then "Get Listed" by submitting your Company, uploading a news story or contributing an article for this eMagazine.
Comments (0)
This article does not have any comments. Be the first to leave a comment below.
Post A Comment
You must be logged in before you can post a comment. Login now.