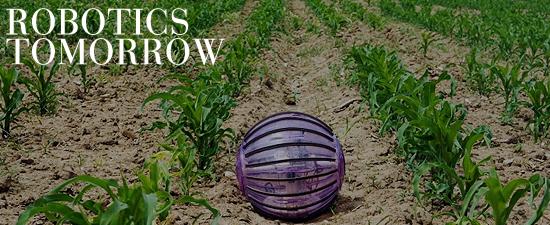 Articles

National Robotics Week And MATE ROV Competition

04/14/14, L Hetherington for, RoboticsTomorrow
The 2014 MATE competition highlights the role that ROVs play in exploring and documenting shipwrecks, studying sinkholes, and conserving our national maritime heritage sites.

Graphene – The New Magical Material
04/14/14, Len Calderone for, RoboticsTomorrow
Graphene may possibly be the future replacement for silicone. It's a two-dimensional material that measures just one atom thick and has a breaking strength 300 times greater than steel.

Cable Carriers for Rotary Applications
04/14/14, Contributed by, Igus
Here are three different types of rotary applications and the cable carrier system used for each.

How Trends in Electronics are Affecting Connectors
04/14/14, Bob Stanton, Omnetics
New smaller and more portable electronics in aerospace, defense, and other stressful environments, like those encountered in robotics and oil exploration, are resulting in changing demands and designs of electronic connector systems.

DRC SafeStop Case Study
04/14/14, Contributed by, Polaris Industries
For the Robotics Challenge, to demonstrate the robot's ability to operate a vehicle, DARPA chose to use the RANGER XP 900 EPS vehicles, which were all customized for the challenge with a TORC SafeStop Emergency System.

Additive Manufacturing and 3D Printing The Future of Manufacturing

03/27/14, Len Calderone for, RoboticsTomorrow
The next chapter in the industrial revolution is 3D printing, delivering a huge impact on additive manufacturing. It will not only create thousands of new jobs, but it will create many new businesses.

International Paper Saves Labor Costs, Improves Reliability, Quality and Work Flow
03/27/14, Contributed by, Motion Controls Robotics Inc.
Downtime near zero vs. extended downtime of former gantry system.

Beta Testing Dynamixel XL-320 Servos
03/27/14, Reviewed by, Robot Campus
Dynamixel XL-320 is a digital servo (in this case, featuring a 8-bit STM8 controller).

Interviews

03/27/14, Matt Rendall, Clearpath Robotics
Essentially, we're creating drones for water that produce mapping capabilities; it's somewhat similar to air drones (i.e.: fixed wing UAVs) that map from the sky, but we're mapping from the water.

Interview with Jim Gruszczynski of Nabtesco Motion Control

02/27/14, Jim Gruszczynski, Nabtesco Motion Control
In the near future the more advanced the equipment becomes we must produce more skilled labor. This is great benefit to the US in that companies themselves will be helping educate their employees and improving the workforce.

The Unmanned Platform Common Control System (CCS)
02/27/14, John Sutton, QinetiQ North America
The CCS prototype was developed for the U.S. government and its goal is to simultaneously control multiple unmanned assets in various environments (water, air and ground).

More Articles

What to Look for When Specifying a Robot Cable

03/14/14, Contributed by, Igus
In order for a cable to withstand repeated torsional movement, it's necessary for the cable to have a special design. It's important that the conductors, shield construction and jacket materials of the cable compensate for major changes in bending load and diameter.

Robotic Welding Series: Robotic Flexibility Can Open Up Opportunities For Job Shops

03/14/14, Erica DeMott, KC Robotics
This is the final installment of a 4-part series by KC Robotics about the automated arc welding industry.

Why I Automate: Vickers Engineering

02/27/14, Contributed by, Association for Advancing Automation (A3)
Robotics allows us to draw a different level of employee. Employees that aren't just looking for a paycheck, but looking for a career.

2013 Nanotechnology Patent Literature Review

02/27/14, Contributed by, McDermott Will & Emery Nanotechnology Affinity Group
Similar to computers, nanotechnology is both an enabling technology and a technology sector in its own right. Nanotechnology is prolific in the research and development of almost every economic sector, from aerospace to medicine to energy.
Publish Your Story at RoboticsTomorrow
The process is very simple. Just email the article (news@roboticstomorrow.com) along with any diagrams, photos etc. that you wish to have included. Length is not restricted. We do all the formatting and title graphics etc. and then let you preview the finished product before it goes live. Biographies and company links can also be included.

Please bear in mind that we seek educational articles focusing on the technologies and benefits to readers rather than simple product cut sheets and promotional material.
Publish Your News
Just copy and paste your company press releases and they will be added to the news page.
Free Service / Free Company Directory Listing
Click Here to get started
About RoboticsTomorrow
RoboticsTomorrow is a community website where those of you who work in the Robotics Industry are invited to contribute articles, news and product information for your peers to read and discover. Our philosophy is to create an outlet where the industry can report on itself.
Please take a moment to look around the site and give us some feedback. Then "Get Listed" by submitting your Company, uploading a news story or contributing an article for this eMagazine.
Comments (0)
This article does not have any comments. Be the first to leave a comment below.
Post A Comment
You must be logged in before you can post a comment. Login now.