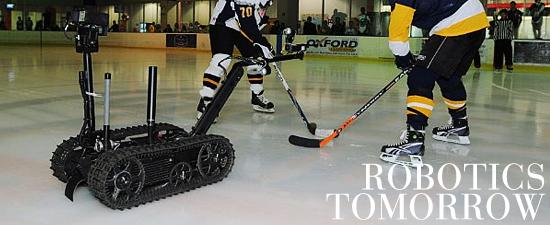 Articles

Why I Automate: Vickers Engineering

02/27/14, Contributed by, Association for Advancing Automation (A3)
Robotics allows us to draw a different level of employee. Employees that aren't just looking for a paycheck, but looking for a career.

2013 Nanotechnology Patent Literature Review

02/27/14, Contributed by, McDermott Will & Emery Nanotechnology Affinity Group
Similar to computers, nanotechnology is both an enabling technology and a technology sector in its own right. Nanotechnology is prolific in the research and development of almost every economic sector, from aerospace to medicine to energy.

The Less is More Approach to Robotic Cable Management
02/13/14, Contributed by, Igus
There are different options available for guiding and protecting cables on six-axis robots. Three well- known solutions include flexible tubing, enclosed dress packs and robotic cable carrier systems.

Brain Control Becomes A Reality
02/13/14, Len Calderone for, RoboticsTomorrow
The fore-runner of brain communication to a robot is Neuroprosthetics, which is an area of neuroscience concerned with neural prostheses. That is, using artificial devices to replace the function of impaired nervous systems and brain related problems.

An Uncertain Future for Quantum Computing?
02/13/14, Amy Baker
Quantum computing is here to shake the existing mechanical, electrical and electronic systems. Modern electronics in particular will not be the same if quantum computing gains acceptance. There're voices of support as well as dissent. In this post, we'll analyze future trends in quantum computing. Keep reading!

Robotic Welding Series: Pre-engineered Cells Cut Through Economics of Automation
02/13/14, Erica DeMott, KC Robotics
This is the third of a 4-part series by KC Robotics about the automated arc welding industry.

Why I Automate
01/31/14, Contributed by, The Association for Advancing Automation
Our goal is to share stories about companies that are using automation to succeed and compete effectively in their marketplace.

A BeagleBone Black Resource
01/31/14, L Hetherington for
The BeagleBone Black is the latest low cost single-board computer in the BeagleBoard family.

Case Study: Customizing Orthopedics With Robotics
01/31/14, Yann Paitel, OSIC CARBONE
The mastery we developed of ROBOTMASTER's capabilities, combined with our expertise in orthoses and prostheses, permitted us to develop proprietary, patented milling strategies, conceived specifically for, and ideally suited to, our highly specialised business.

The Importance of Field Based Cable Length Measurement for Cable Installers
01/31/14, Sean O'Flaherty, Klein Tools
Quick, accurate determination of cable length and line continuity testing using hand-held cable length instruments brings value to the cable installer, the contractor, and the customer during installation, trouble-shooting and routine maintenance cabling jobs.

Interviews

Interview with Jim Gruszczynski of Nabtesco Motion Control
02/27/14, Jim Gruszczynski, Nabtesco Motion Control
In the near future the more advanced the equipment becomes we must produce more skilled labor. This is great benefit to the US in that companies themselves will be helping educate their employees and improving the workforce.

The Unmanned Platform Common Control System (CCS)
02/27/14, John Sutton, QinetiQ North America
The CCS prototype was developed for the U.S. government and its goal is to simultaneously control multiple unmanned assets in various environments (water, air and ground).

3D Printing in the Dental Industry

02/13/14, Avi Cohen, Stratasys
3Shape implants planning and guided surgery software brings together implant planning, prosthetics, and drill guide design to provide a cost-efficient solution that saves chair-time and improves patient experience.

Trimble Adds Unmanned Aircraft System to its Agriculture Portfolio
02/13/14, Stephanie Spiller, Trimble
The system can locate cattle and their available forage over large areas, measure crop height, and generate topographic maps and models for land leveling and drainage applications.

01/31/14, Adam Karcz, NEI Corporation
Electrospinning can be used to produce advanced materials that otherwise would not be possible to make.

More Articles

Robotic Storage Facility Protects Exotic Collectibles with HOBO Data Nodes

01/31/14, Contributed by, Onset


For security and convenience, the facility keeps human entry to a minimum. The robotic crane and rail system delivers possessions out of the facility.

Case Study: Ancor And The Monroney Window Sticker

01/31/14, Contributed by, Patti Engineering
Ancor knew there had to be a better and more efficient way to manage the label packaging process – which had a 10-hour or less nightly production timeframe and a client-mandated 100% verification process.

01/15/14, Len Calderone for, RoboticsTomorrow
Nanorobotics is about creating robots which are so small they are nearly invisible to the naked eye. Operating as a swarm, these tiny robots have the promise to do some really incredible things.

Robotic Welding Series: Perfectly weld imperfect parts with adaptive welding
01/15/14, Erica DeMott , KC Robotics
This is the second of a 4-part series by KC Robotics about the automated arc welding industry.
Publish Your Story at RoboticsTomorrow
The process is very simple. Just email the article (news@roboticstomorrow.com) along with any diagrams, photos etc. that you wish to have included. Length is not restricted. We do all the formatting and title graphics etc. and then let you preview the finished product before it goes live. Biographies and company links can also be included.

Please bear in mind that we seek educational articles focusing on the technologies and benefits to readers rather than simple product cut sheets and promotional material.
Publish Your News
Just copy and paste your company press releases and they will be added to the news page.
Free Service / Free Company Directory Listing
Click Here to get started
About RoboticsTomorrow
RoboticsTomorrow is a community website where those of you who work in the Robotics Industry are invited to contribute articles, news and product information for your peers to read and discover. Our philosophy is to create an outlet where the industry can report on itself.
Please take a moment to look around the site and give us some feedback. Then "Get Listed" by submitting your Company, uploading a news story or contributing an article for this eMagazine.
Comments (0)
This article does not have any comments. Be the first to leave a comment below.
Post A Comment
You must be logged in before you can post a comment. Login now.