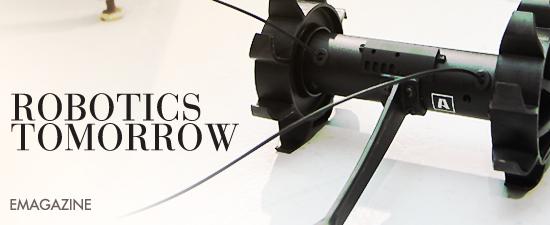 Feature Articles and Interviews
Doctor Robot at Your Service
03/23/12, Len Calderone, RoboticsTomorrow
Future robots might incorporate the ability for a surgeon to program the surgery and just supervise the procedure, as the robot performs most of the tasks. The possibilities for improvement and advancement are only limited by imagination and cost.
Robotics going Mainstream: Improve Warehouse Productivity and Safety
03/23/12, Contributed by, Aberdeen Group
This document explains how companies can utilize advanced and emerging technologies to help deliver superior results. Prepare for the unexpected, understand your process, look at all the options, go back to the fundamentals, reengineer, gain stakeholder acceptance through a pilot program, and finally deliver. The savings are there for the taking.
Extra! Extra! Nanobots Kill Cancer!
03/23/12, Len Calderone, RoboticsTomorrow
The small nanobots that are being deployed to fight cancer are nothing like what we imagine. Instead of being made of metal, plastic, and circuitry, cancer nanobots are created using "DNA origami," or "folding" DNA chains to form a barrel-shaped container for a payload of cancer antibodies.
New Medical Technology Saving Lives
03/12/12, Len Calderone
Most of the medical advances that we have seen have been with pharmaceuticals, as drug companies compete to introduce new more effective drugs because the patents on many blockbuster drugs are about to expire. But the coolest advances have to do with medical equipment. The age of high-tech medicine is here with even greater advances in development.
Interview – Wireless Assembly Line Robotics - Joseph Citrano III, of Honeywell
03/12/12, Joseph Citrano III, Honeywell Sensing and Control (S&C)
A robot has multiple axis, so a wireless switch is sensing position on those different axis. A Limitless™ wireless solution includes wireless switches and I/O devices that are paired and communicate with a PLC or controller interface.
Proximity sensing in robotic clamping applications
03/12/12, Contributed by, TURCK Inc.
Clamping applications often rely on sensors to detect whether the jaws or grippers are in the proper position – open or closed. Though other technologies can be used in place of sensors to determine the open/closed conditions, sensor implementation can increase reliability and obtain data that only a detection device very near the application can provide.
Seegrid Robotic Industrial Trucks - Case Study
03/12/12, Contributed by, Seegrid
The Warehouse Group took to the Robotic Industrial Truck right away when they saw how it helped with their workload. On the manufacturing side, an unexpected secondary benefit is that we removed clutter and unsightly pallets from the work areas so the trucks can maneuver, providing a cleaner, safer work environment.
Interview - Unmanned Arial Vehicle (UAV) Tech
02/07/12, Lorenzo Lopez, 3D Robotics
You can pretty much give UAVs any use you want, provided that you have enough imagination and patience to see that function come alive. Some of the most common uses right now and in the future will probably be related to photography, mapping, surveillance, surveying and any other activities that might involve risking human lives.
Tactical Micro-Robots Prove That Less Is Often More
01/31/12, Jack Klobucar, ReconRobotics
Designed to be thrown up to 120 feet, the Throwbot could also move quietly throughout a structure and send back real-time video that revealed the layout of rooms, the location of barricaded subjects and the condition of hostages.
Interview - 3D Printing with the Cube and Cubify.com
01/31/12, 3D Systems
Cube™ is the first 3D printer specially designed for the home. From the sleek industrial design to the dimensions and weight – Cube will fit right in from the kitchen to the family room. Retailing for $1299.00 the Cube is ready to print right out of the box, you initialize like you would a cell phone and we will download 50 free print files to you immediately. The printer includes a cartridge of material that will deliver 8 – 15 average size models in a color of your choice – then simply reorder your next cartridge for just $49.99. Models will cost a few dollars to up to $10.00 for a large model. The printer dimensions are 14 X 14 X 18 inches high and it weighs under 9 pounds making Cube portable . . easy to use, fun to watch – and fit right into your home as a new member of your creative 3D family
Interview – Robotics in the Military
01/31/12, Jorgen David Pedersen, RE2, Inc.
Mr. Pedersen founded RE2, Inc. in July of 2001 to advance the state of the art in robotics technologies for the military. Since that time, Mr. Pedersen has grown the company to over 60 employees with work in all aspects of robotics from innovative research in actuation and control to manufacturing of highly complex 2-arm manipulation systems. Mr. Pedersen currently serves as the Vice Chair of the Robotics Division of National Defense Industry Association (NDIA) and sits on the NDIA Board of Trustees. He also sits on the Robotics Technology Consortium (RTC) Board of Directors and the OSD Joint Ground Robotics Enterprise Senior Steering Group.
Unlock the Secret to Selling to the Military
01/31/12, Len Calderone
Selling to the military is not easy, but if you are persistent and take one step at a time, asking questions along the way, military sales can add substantially to your bottom line.
A 3D Printing Primer
01/16/12, Len Calderone
Space: the final frontier. These are the voyages of the starship "Enterprise". Its five-year mission: to explore strange new worlds, to seek out new life and new civilizations, to boldly go where no man has gone before. Do these words sound familiar? Well, today man has gone where no man has gone before. On the star ship Enterprise, there is a device known as a "replicator." The concept was to have a 23rd century technology that could replicate anything by reconstituting raw material into the object desired.
Is 2012 The Year That Robot Applications Take Root?
01/09/12, Frank Tobe, The Robot Report
Tell us what apps you want.
Case Study: Micron Resolution Vision Inspection Systems
12/22/11, Patrick O'Rahilly, Compass Automation
Compass Automation has rapidly become an industry-leading provider of high resolution, in-line vision inspection systems. In the fall of 2011 Compass completed the project highlighted below for Mitchel & Scott Machine Company, providing an automated vision inspection and thread checker system. Compass was able to provide Mitchel & Scott with an outstanding product in an extremely tight timeline. This system exceeded the quoted performance, providing a repeatability of 2 microns, a reproducability of 4 microns, and passing a Gage R&R with a score of 7.4%.
Robotics and Roads
12/22/11, William Zurn & Davel Foote, IpAuctions
Bill Zurn was inspired to develop a road repair machine patent after being frustrated by all of the potholes on the freeways & city streets. He postulated that a more efficient method of repairing roads was possible by adding robotic modules and computer controlling methods to repair machines.
Robotics is a Highly Fragmented Industry With Few Common Standards or Platforms
12/20/11, Frank Tobe, with Manoj Sahi, The Robot Report
Recently there's been a clammer for (and against) a universal open-source robotic operating system. The proponents main argument is that such a system is beneficial particularly for rapid prototyping in the development of new systems while almost all of the industrial robot manufacturers argue that their robots are performing mission critical tasks which require secure and fail-safe operating systems - which they have developed and optimized over the past 50 years.
i-AGV ADAM from RMT Robotics Supports Otis Technology's Transition To Lean Manufacturing
12/14/11, Bill Torrens, RMT Robotics
When a company announces its intention to introduce Lean practices and implement automated solutions to improve efficiencies, the first concern internally is the displacement of labor. But that was not the case for Otis Technology, a forward-thinking company specializing in the design and manufacturing of gun cleaning systems in upstate New York. The priority was to redeploy labor into value-added tasks in line with its commitment to a Lean philosophy.
How Kiva Systems and Warehouse Management Systems Interact
12/06/11, Kiva Systems
Companies considering a new material handling system are often simultaneously evaluating warehouse management systems (WMS) or have already implemented a WMS. When considering an automated material handling solution such as the Kiva Mobile Robotic Fulfillment System, companies often ask how the systems will work together.
7-axis Robot Programming Solution For Trimming Of Composite Parts
12/06/11, Robotmaster
Using Robotmaster software for off-line programming of a 7-axis robot used for the precise trimming required in the manufacturing of General Atomics' Predator Drone.
---
About RoboticsTomorrow
RoboticsTomorrow is a community website where those of you who work in the Robotics Industry are invited to contribute articles, news and product information for your peers to read and discover. Our philosophy is to create an outlet where the industry can report on itself.
Please take a moment to look around the site and give us some feedback. Then "Get Listed" by submitting your Company, uploading a news story or contributing an article for this eMagazine.
Comments (0)
This article does not have any comments. Be the first to leave a comment below.
Post A Comment
You must be logged in before you can post a comment. Login now.