Integration of analog functions enables direct connection of the MCU to car battery voltages, helping reduce system cost and size
SAN ANTONIO, Jun 21, 2011 (BUSINESS WIRE) -- Freescale Semiconductor (NYSE: FSL) today introduced the first single-chip device in its S12 MagniV mixed-signal microcontroller (MCU) family, the S12VR64. The device is designed for use in DC motors for automotive window lift and sunroof applications connected to local interconnect network (LIN) automotive body networks.

The S12VR64 MCU is based on Freescale's revolutionary LL18UHV technology (announced in October 2010) that enables extensive analog integration on the MCU so developers can connect high-voltage signals and power supplies directly to the MCU in their automotive designs, helping save board space, increase system quality and reduce complexity.
Traditionally, automotive electronic designs have required multiple devices: some created with a high-voltage process to connect to the battery and power actuator outputs, as well as MCUs created with a low-voltage digital logic process. This poses a challenge when the end application has space limitations. The S12VR64 MCU combines the different devices required for relay-driven electric motor control, including the LIN physical layers, voltage regulators and low- and high-side drivers, into one device.
This level of integration is accomplished via the LL18UHV technology, which uses Freescale's proven, low-leakage 0.18 micron (LL18) fabrication process to integrate 40V analog, non-volatile memory (NVM) and digital logic on a single piece of silicon. The result is a compact and cost-effective solution that does what it takes up to four chips to accomplish in current designs. Fewer components increase overall quality, allow customers to create a smaller board and ultimately reduce the weight of the automobile.
"We are leveraging our automotive semiconductor leadership and proven process technology expertise to create a more efficient solution for networked automotive applications," said Reza Kazerounian, senior vice president and general manager of Freescale's Microcontroller Solutions Group. "The S12VR64 mixed-signal MCU is the first device based on LL18UHV technology, and we'll continue to add products to our S12 MagniV family that offer the right levels of precision and intelligence for a range of motor control and lighting applications in body electronics and other areas of the car."
The S12 MagniV family leverages the proven and well-supported S12 16-bit MCU, enabling software compatibility and tool reuse across a broad range of applications. Family members include:
New S12VR64 mixed-signal MCU: Single-chip device based on LL18UHV technology that allows the integration of high-voltage analog, NVM and digital logic on one piece of silicon. This device offers the smallest footprint in the family.
Existing system-in-package (SiP) solutions (MM912F634, MM912G634, MM912H634): These devices combine an S12 MCU and a SMARTMOS analog control IC, fabricated in two separate processes, in a single package. These SiP devices are ideal for customers who need dual-die solutions for applications in which high current is required.
Freescale intends to expand the S12 MagniV family to include a full range of AEC-Q100 qualified products that integrate an MCU, automotive voltage regulators, LIN and CAN physical layers, motor drivers and more in either single-chip or dual-die form, all in single-package solutions. The next parts planned for the S12 MagniV family are single-chip solutions for applications such as brushless DC motor control, LED lighting, stepper motor control, generic LIN slave nodes or a general-purpose MCU combined with high-voltage I/O.
The S12VR64 MCU is included in Freescale's product longevity program, with assured supply for a minimum of 15 years. See www.freescale.com/productlongevity for details.
Availability and pricing
Samples of the S12VR64 MCU are available now. Freescale expects the S12VR64 to achieve automotive AEC-100 qualification by early 2012. Budgetary pricing is $1.65 (USD) in 10,000-piece quantities.
About the Freescale Technology Forum
Created to drive innovation and collaboration, the Freescale Technology Forum (FTF) has become the developer event of the year for the embedded systems industry. The Forum has drawn more than 40,000 customers at FTF events worldwide since its inception in 2005. Our annual flagship event, FTF Americas, will take place June 20-23, 2011, in its new location in San Antonio, Texas.
About Freescale Semiconductor
Freescale Semiconductor (NYSE:FSL) is a global leader in the design and manufacture of embedded semiconductors for the automotive, consumer, industrial and networking markets. The company is based in Austin, Texas, and has design, research and development, manufacturing and sales operations around the world. www.freescale.com.
Freescale, MagniV, SMARTMOS and the Freescale logo are trademarks of Freescale Semiconductor, Inc., Reg. U.S. Pat. & Tm. Off. All other product or service names are the property of their respective owners. �© 2011 Freescale Semiconductor, Inc.
Featured Product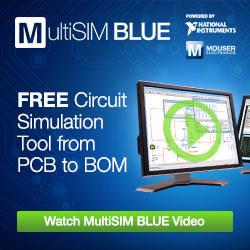 Powered by NI, MultiSIM BLUE Upgrade includes schematic capture, simulation, PCB layout, BOM-to-cart capabilities using only one tool. No more switching between different programs for circuit design. Perform MCU co-simulation. New voltage, current and power probes as well as faster active analysis mode are also available. Plus, it even comes with an expansive database of new components from industry-leading manufacturers. Discover why EDN named MultiSIM BLUE a HOT 100 Product of the Year.