Insituform Technologies announced that CRTS, its subsidiary firm, has entered into a 48.4 million dollar contract with Snamprogetti Saudi Arabia.
The contract requires CRTS to provide robotic coating of the internal field joints for the offshore pipelines of Saudi Aramco. These pipelines would be transporting natural gas from the newly commissioned offshore wells at Hasbah and Arabiyah gas fields.

CRTS would be working on the project along with its local partner, Diversified Lines for Petroleum Services. The robotic internal field joint coating would be provided for the pipelines with diameters ranging from 10" to 36". Initial preparatory work and mobilization for the project is expected to start in July 2011. The ground work for the project includes equipment construction, weld quality control testing and shipping of materials. The coating work is scheduled to begin in the second quarter of 2012 and would take 12 months approximately for completion.
The new offshore wells would together supply 2.5 billion ft 3 of natural gas per day to Saudi Aramco. The natural gas from these wells would be sent to the onshore Wasit gas plant of Saudi Aramco for processing. The President of CRTS regarded the project with Saudi Aramco as top priority and was confident that they would be able to meet their expectations. The senior vice president of Insituform expressed that the contract reiterated CRTS's lead in providing offshore robotic field joint coating technologies and applications and paved the way for their growth in the Energy and Mining sector.
Featured Product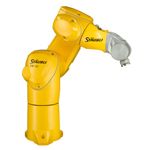 Stäubli offers a complete range of robotic tool changing systems for payloads of 20 kg to 1,530 kg and torsion moments from 30 to 12,500 Nm, designed for use in virtually every industry. The tool changers adapt to customer-specific applications with different modules for media, data, power, etc. The new MPS 130 robotic tool changer is powerful, very robust, and designed for a huge range of applications. It features multiple couplings for air/vacuum connections, and can be equipped with connectors for data and electrical transmission. Very compact dimensions, with a coupled height of only 67 mm, make the MPS 130 the first choice for applications requiring a high number of mating cycles.