Work to Include Payloads for AAI's Tactical, Small and Miniature Unmanned Aircraft
Hunt Valley, Md. - July 11, 2011 — AAI Unmanned Aircraft Systems (UAS), an operating unit of Textron Systems, a Textron Inc. (NYSE: TXT) company, announced today that it has entered into a five-year cooperative research and development agreement (CRADA) with the U.S. Army Research, Development and Engineering Command, Communications-Electronic Research, Development and Engineering Center (CERDEC). The CRADA enables AAI UAS and CERDEC to work together on various payloads for three classes of UAS - tactical, small and miniature, also known as Groups 1, 2 and 3.

Under the agreement, CERDEC and AAI engineers will explore whether various CERDEC payload concepts can be integrated onto AAI-provided UAS. During phase 1 of the CRADA, AAI will provide CERDEC an Aerosonde® Mark 4.7 aircraft for payload development meeting the aircraft's specifications. Upon successful payload integration, AAI's experienced UAS operators will fly the aircraft for capabilities demonstration.
"AAI has decades of experience designing, manufacturing, operating and supporting UAS, and we bring this collective knowledge to the Army's CERDEC with this CRADA," says Vice President, Small Unmanned Aircraft Systems Steve Flach. "Our combined CERDEC/AAI UAS team promises a productive and successful collaboration."
The Aerosonde Mark 4.7 Small Unmanned Aircraft System is a highly expeditionary system that can be used for shipboard or ground-based intelligence, surveillance and reconnaissance missions. The system's large payload capacity, modular design and open architecture make it ideally suited for CERDEC's efforts. Other UAS platforms available to CERDEC are AAI's renowned Shadow® Tactical UAS, which recently surpassed 635,000 total flight hours in service with customers including the U.S. Army and Marine Corps, and the electric Orbiter™ Miniature UAS, being offered to various military and law enforcement customers through a teaming agreement between AAI and Israel-based Aeronautics Ltd. Together, the three classes of UAS can help users address the spectrum of mission requirements and tactical environments.
About AAI
AAI Corporation and its indirect wholly owned subsidiaries Aerosonde Pty Ltd and ESL Defence Limited design, produce and support industry-leading aerospace and defense products and services, including unmanned aircraft and ground control technologies; high-fidelity training and simulation systems; automated aerospace test and maintenance equipment; armament systems; and logistical, engineering, supply chain and operational support services. AAI Corporation is an indirect wholly owned subsidiary of Textron Inc. More information is available at www.aaicorp.com.
About Textron Systems
Textron Systems Corporation has been providing innovative solutions to the defense, homeland security and aerospace communities for more than 50 years. Known for its unmanned aircraft systems, advanced marine craft, armored vehicles, intelligent battlefield and surveillance systems, intelligence software solutions, precision smart weapons, piston engines, test and training systems, and total life cycle sustainment services, Textron Systems includes AAI Corporation, Lycoming Engines, Overwatch, Textron Defense Systems and Textron Marine & Land Systems. Textron Systems Corporation is an indirect wholly owned subsidiary of Textron Inc. More information is available at www.textronsystems.com.
About Textron Inc.
Textron Inc. is a multi-industry company that leverages its global network of aircraft, defense, industrial and finance businesses to provide customers with innovative solutions and services. Textron is known around the world for its powerful brands such as Bell Helicopter, Cessna Aircraft Company, Jacobsen, Kautex, Lycoming, E-Z-GO, Greenlee, and Textron Systems. More information is available at www.textron.com.
Featured Product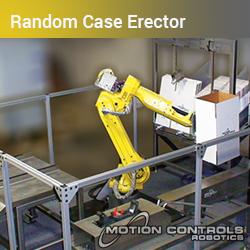 Random Case Erectors are ideal for fulfillment centers and other end-of-line packaging needs. Save money by eliminating changeover downtime. Reduce ergonomic injuries by eliminating repetitive manual tasks. The Random Robotic Case Erector System includes: • FANUC M20iA/20 Robot • Combi gravity case magazine - holds 2 box sizes • Combi bottom flap folder with integrated 3M case sealing head. • Fixed robot base, anchored to the floor • Flexible end of arm tool to pick and erect multiple case sizes to eliminate changeover downtime • System wiring and controls • Color 7.5" touchscreen HMI display for selecting case size • Perimeter guarding with safety interlocks on doors • Programming for Robot, PLC/PMC, HMI and Vision • Complete documentation in electronic format • On-site training and support • Compliance with all applicable robotic safety standards. Alternate safety configuration may be available to allow an operator to changeover a case size in one magazine while the robot continues to work in other magazines. Contact Motion Controls Robotics to learn more about how to implement this system into your current end-of-line operations.