AMTs Robotic Renaissance Hiring Initiative to Focus on Placing Automation Engineering Talent in Robotic Careers
ORION, Mich. - Applied Manufacturing Technologies (AMT), a leading supplier of factory automation design, engineering and process consulting services today announced its new aggressive "Robotic Renaissance" Hiring Initiative plans to support continuing robotics industry growth. The program's focus will be on placing automation engineering talent into robotic careers. AMT believes that with the recently announced $500 million Advanced Manufacturing Partnership, which features $70 million for a National Robotics Initiative, that the use of robotics in industry will see significant growth in the next few years.

"It does appear that we're at a robotic renaissance and the future looks brighter than ever," said Mike Jacobs, President of Applied Manufacturing Technologies. "We are planning to invest aggressively in our core business of recruiting engineers and launching them into fulfilling careers in the robotics and automation industry. We expect that continued investment in robotics technology and engineering education will inspire our nation's youth to pursue automation technology degrees with more vigor than ever."
Initially the majority of robot applications were in automotive manufacturing. As robotic technology continues to advance, becoming more capable, less expensive and easier to use, opportunities exists for applications in many areas that were never considered before. Now automation professionals are deploying robots in a wide variety of industries including wind and solar energies, medical devices, glass processing, food and beverage production, chemical processes and many more. AMT's hiring initiative is underway with plans to add up to 40 engineers in the next 12 to 18 months.
Founded in 1989, Applied Manufacturing Technologies (AMT) is a leading supplier of complete consulting and engineering services, offering single-source engineering solutions to the automation and manufacturing industries. The company's service offerings range from design and simulation to programming, installation and support of industrial automation solutions. The company's technical and industry expertise in automation for the automotive, aerospace, medical, heavy equipment and consumer products industries offers its customers the highest quality professional service available in the industrial arena. For more information contact Applied Manufacturing Technologies at 248-409-2000, or online at www.appliedmfg.com.
Featured Product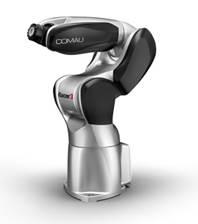 Racer3 is a powerful, high-speed, 6-axis articulated robot featuring a payload of 3kg and a reach of just 630 mm. Built from high-strength aluminum, the newest innovation in Comau robotics is lightweight and can be easily mounted on benches, walls, ceilings or on inclined supports. The third robot within the award-winning Racer family, Racer3 is Comau's response to the growing demand for fast, cost-effective robotic automation within small to medium-sized enterprises and emerging countries. Racer3 is intended for general industry use to increase productivity and reduce overall costs by automating industrial applications. It combines field-proven technology and enhanced dexterity with a keen focus on safety, design and product aesthetics. With a streamlined design and brushed metal exterior, the new powerhouse of a robot combines beauty and speed together with absolute precision and repeatability. Primary applications include assembly, material handling, machine tending, dispensing and pick & place.