Simulating Processes Gains Confidence of Con-vey Customers
Dassault Systèmes (Euronext Paris: #13065, DSY.PA) (Paris:DSY), a world leader in 3D and Product Lifecycle Management (PLM) solutions, today announced that Con-vey Keystone of Roseburg, Oregon, has invested in the DELMIA Robotics solution for simulation of its automation processes. Originally applying the solution to its core competency of designing material handling systems for the wood products industry, the company has recently used the DELMIA simulations to gain entry into new markets such as food and beverage palletizing, welding and drilling.

"We are closely tied to the housing market, which has been a little soft," said Scott Patterson, Con-vey sales engineer. "By applying our material handling and simulation expertise via DELMIA Robotics to other markets, we have been able to diversify our company and gain new customers."
Con-vey worked through DELMIA channel partner EOS Solutions of Rochester, Michigan on the purchase and training of the solution and has embedded the DELMIA Robotics solution into its strategy as a standard part of the sales process. The company believes that simulating its systems in a 3D virtual environment provides an advantage over its competitors by proving to customers that they can achieve their goals in an optimal way. "EOS has been very helpful, spending whatever time necessary to get us up and running - they've been great to work with," added Scott Patterson. "A moving picture of the process clearly illustrates that the proposed system can achieve the throughput without any clashes or interferences."
Prior to purchase Dassault Systèmes' DELMIA, Con-vey was implementing a particular robot manufacturer solution, which often resulted in long lead times. The DELMIA solution, which comes with a large robot library, as well as the ability to add in new robot models as needed, provides greater breadth of capability to the company. Additionally, the solution has the flexibility to import 3D models from various CAD systems. The solution is being used for cycle analysis, throughput and robot reachability/collision analysis. Patterson believes they have just scratched the surface of the solution's capability and hopes to expand into inertia analysis.
About Con-vey Keystone
For more information, visit www.con-vey.com
About EOS
EOS is one of the world's leading providers of software, hardware and professional services for the engineering community, with an emphasis on the oil and gas, energy, defense, automotive, consumer goods and aerospace industries. For more information, visit http://3eos.com
About Dassault Systèmes
As a world leader in 3D and Product Lifecycle Management (PLM) solutions, Dassault Systèmes brings value to more than 130,000 customers in 80 countries. A pioneer in the 3D software market since 1981, Dassault Systèmes applications provide a 3D vision of the entire lifecycle of products from conception to maintenance to recycling. The Dassault Systèmes portfolio consists of CATIA for designing the virtual product - DELMIA for virtual production - SIMULIA for virtual testing - ENOVIA for global collaborative lifecycle management, EXALEAD for search-based applications- SolidWorks for 3D mechanical design and 3DVIA for online 3D lifelike experiences. For more information, visit http://www.3ds.com.
Featured Product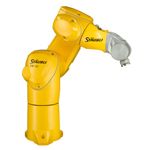 Stäubli offers a complete range of robotic tool changing systems for payloads of 20 kg to 1,530 kg and torsion moments from 30 to 12,500 Nm, designed for use in virtually every industry. The tool changers adapt to customer-specific applications with different modules for media, data, power, etc. The new MPS 130 robotic tool changer is powerful, very robust, and designed for a huge range of applications. It features multiple couplings for air/vacuum connections, and can be equipped with connectors for data and electrical transmission. Very compact dimensions, with a coupled height of only 67 mm, make the MPS 130 the first choice for applications requiring a high number of mating cycles.