Energy efficient link system is more stable and accurate than roller chain
Auburn Hills, Mich., July 15, 2011 - DE-STA-CO, a worldwide leader in robotic tooling, workholding and flexible industrial automation solutions, announces the release of a new product: the CAMCO® Rite-Link conveyor.

Rite-Link's slim, compact design features narrow links, (30.4 mm wide) with 75 mm, 115 mm, or 150 mm pitches. There are five standard center distances available or a custom one can be provided, assembled, and tested for the customer's particular industrial or medical application, and can be used in either an over/under or carousel configuration.
The energy efficient Rite-Link requires no lubrication, so it is virtually maintenance free. Built with lightweight components, it runs quietly, even at higher operating speeds.
"Rite-Link is the perfect fit for manufacturers that have been looking for a cost-effective conveying solution that is more accurate and stable than roller chain," said Lou Wozniak, Product Manager for DE-STA-CO. "It's easy to install and integrate into any shop environment, and lends itself to flexible indexing with CAMCO®'s precision 115RSD rotary servo drive, or a customer's standard servo and planetary drive."
About DE-STA-CO
DE-STA-CO is a global automation and workholding company, providing productivity solutions for the industry since 1915. Quality, innovation, and service have made DE-STA-CO a leader in the design and manufacture of cost reducing, flexible automation solutions for industrial customers around the world.
The company is committed to the Team DE-STA-CO philosophy, a progressive approach to doing business that focuses on providing consistent, standard-setting service and products to every customer, regardless of geographic location.
Featured Product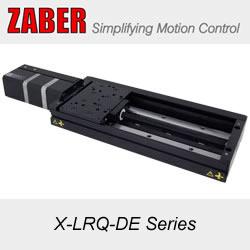 Zaber's new and improved stage (X-BLQ-E) is a closed-loop, belt-driven motorized linear stage with built-in motor encoder and controller. With travel lengths up to 3 m, 10 µm repeatability, and a maximum speed of 2.0 m/s, X-BLQ-E stages are perfect for rapid positioning over large distances. A built-in motor encoder allows closed-loop operation and slip/stall recovery, and an optional indexed knob provides manual control for operation without a computer. Like all Zaber products, the X-BLQ-E Series is designed for easy set-up and operation.