Company to Commence Initial Launch in Europe
Hansen Medical, Inc. (NASDAQ: HNSN), a global leader in flexible robotics and the developer of robotic technology for accurate 3D control of catheter movement, today announced that it has completed the European Union conformity assessment procedure and affixed a Conformite Europeenne (CE) Mark on its Magellan(TM) Robotic System.

The Magellan Robotic System is intended to facilitate navigation to anatomical targets in the peripheral vasculature and subsequently provide a conduit for manual placement of therapeutic devices. This System was designed to assist physicians to safely, effectively and efficiently treat a variety of peripheral vascular diseases. While the CE Mark enables Hansen Medical to commence full commercial launch of the Magellan Robotic System in the European Union, the Company will commence commercialization at selected centers initially, with a full launch expected in the first half of 2012.
"The Magellan Robotic System is a remarkable new tool that may offer important clinical benefits for physicians performing peripheral interventions," said Professor Nicholas Cheshire, M.D. of St. Mary's Hospital, part of the Imperial College Healthcare NHS Trust in London. Professor Cheshire is a pioneer in the use of flexible robotics in vascular interventions.
"The Magellan System enables physicians with proprietary 3D robotic control of the catheter tips to navigate efficiently through a variety of anatomies and lesions while seated comfortably and away from radiation. As a result of our in vitro and in vivo animal studies, I believe using this platform has the potential to increase efficiencies in the interventional lab by shortening procedure times and allowing more predictable interventions. Finally, this System may facilitate new patient treatment options by enabling robotic endovascular interventions," Professor Cheshire added.
Hansen Medical President and CEO Bruce J Barclay called CE marking the System and the Company's entrance into the European peripheral vascular market "a fundamental building block to the future growth of our business." Hansen Medical's new London Education Centre and European headquarters will serve as the hub for its commercial, training and physician support activities in association with the initial phase of the European launch of the Magellan Robotic System, including placement, training and clinical education of select users in multiple countries, Barclay noted.
"A CE Mark of the System demonstrates our belief in the safety and technical efficacy of our Magellan Robotic System," Barclay said. "In addition, today's announcement is a testament to the talented development teams at Hansen Medical that worked tirelessly to achieve our CE Mark, and they are all to be congratulated. For Hansen Medical, CE mark allows us to initiate a selective commercial launch of our Magellan Robotic System in the large and rapidly expanding European Union peripheral vascular market. Once key initial sites are successfully up and running, we will commence full launch activities. We have received positive feedback from many physicians that our Magellan Robotic System and its multiple features and benefits, including the distal tip catheter control and remote operating environment, may enable their peripheral procedures."
The Magellan System is designed for use with the NorthStar(TM) Robotic Catheter and related accessories, and the Company anticipates that these CE Marks will follow soon. In the U.S., the Magellan Robotic System requires U.S. Food & Drug Administration (FDA) clearance and is not commercially available. The Company submitted a 510(k) pre-market notification application for the Magellan Robotic System, the NorthStar Robotic Catheter and accessories with the FDA earlier this year.
The global vascular market is large and expanding rapidly, driven by an aging population, the prevalence of diabetes and obesity and an increase in disease awareness. Of the more than 2 million vascular procedures done each year, approximately one-third to one-half of them are potentially addressable by the Magellan Robotic System.
Featured Product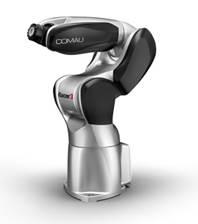 Racer3 is a powerful, high-speed, 6-axis articulated robot featuring a payload of 3kg and a reach of just 630 mm. Built from high-strength aluminum, the newest innovation in Comau robotics is lightweight and can be easily mounted on benches, walls, ceilings or on inclined supports. The third robot within the award-winning Racer family, Racer3 is Comau's response to the growing demand for fast, cost-effective robotic automation within small to medium-sized enterprises and emerging countries. Racer3 is intended for general industry use to increase productivity and reduce overall costs by automating industrial applications. It combines field-proven technology and enhanced dexterity with a keen focus on safety, design and product aesthetics. With a streamlined design and brushed metal exterior, the new powerhouse of a robot combines beauty and speed together with absolute precision and repeatability. Primary applications include assembly, material handling, machine tending, dispensing and pick & place.