Kinze Manufacturing, Inc. today unveiled an innovative solution to increase productivity on the farm—the Kinze Autonomy Project. The technology, which is the first of its kind in row crop production worldwide, utilizes autonomous agricultural equipment to complete many tasks on the farm with minimal direct human input.
"We're excited to introduce the first truly autonomous row crop solution in the world on this scale," said Susanne Kinzenbaw Veatch, vice president and chief marketing officer at Kinze. "This technology could be used to do a variety of tasks, including planting, nourishing, maintaining and harvesting crops."

As a project more than two years in the making, Kinze performed extensive obstacle detection testing to ensure the accuracy and safety of the autonomous equipment. Beginning in a laboratory environment and then in the field, Kinze engineers simulated real-world scenarios to ensure the equipment would detect objects often encountered in the field, such as fence posts, stand pipes, farm animals and other vehicles.
Similar autonomous technology has been used since the 1990s in many other industries, including mining, construction and the military. "Some simple forms of autonomy are used in rice production and orchard operations," Veatch explains. "However, until now, no other manufacturer associated with row crop production has offered truly autonomous technology like this."
The Kinze Autonomy Project is designed to reduce the need for skilled operators by taking the human element out of the tractor cab. Kinze will market this technology to help growers increase their productivity by allowing them to focus their time and attention elsewhere while performing cursory monitoring of the Kinze autonomous equipment.
"It's our goal to help reduce grower fatigue and help them make the most of their harvest," says Veatch. "As growers ourselves, we know how crucial it is to be productive during the short planting and harvest windows. With this technology, producers can set the equipment to run all night if necessary."
The technology was originally developed in a laboratory setting using computer simulation. Kinze engineers partnered with Jaybridge Robotics, a firm in Cambridge, Mass., to bring that technology from the lab to the field, and to test and refine the work.
Kinze demonstrated the technology for their dealers today and is developing plans for the commercial launch to the market.
About Kinze Manufacturing
Founded more than 45 years ago on the premise of innovation, Kinze Manufacturing, Inc., markets its planters and grain carts globally and is known for a number of industry "firsts." Kinze operates with core values of integrity, customer focus, excellence, innovation and mutual respect. Kinze Manufacturing is the recognized technology leader and innovator of planters for row-crop production and grain auger carts. Kinze employees spend their nights and weekends farming, putting them in a unique position to be both manufacturers and customers of the planters and grain carts they build. For more information, visit the Kinze Manufacturing website at www.kinze.com.
About Jaybridge Robotics
Jaybridge Robotics provides domain expertise, consultation, software and systems integration for autonomous vehicle design and development. The company works closely with their clients' engineering teams to fully transform their products into robust autonomous systems capable of reliably executing workflows even in harsh, real-world conditions. Jaybridge's state of the art capabilities include software, tools and expertise for vehicle motion, navigation, perception, control, precision visualization and intuitive human-robot interfaces. Founded by graduates of MIT and Carnegie Mellon University, Jaybridge applies exclusive, field-proven algorithms and open software to solve complex robotics challenges. Their seasoned in-house robotics team has deep industry and product development experience and a proven track record.
©Copyright 2011 by Kinze Manufacturing, Inc. All rights reserved. Kinze® and the Kinze™ logo are trademarks owned by Kinze Manufacturing, Inc. Kinze Manufacturing, Inc. reserves the right to make changes in engineering, design and specifications, or add improvements at any time without notice or obligation.
Featured Product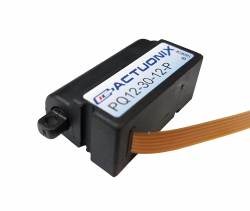 The PQ12-R series of linear servos are the smallest affordable linear servo on the market today. Small enough to fit inside a tic tac box, it's very powerful with a maximum force of over 11lbs. It operates as a direct plug-and-play replacement for standard rotary servos, using the same standard 3 wire connector. Regardless of how you drive your servos, be it with an RC receiver, an Arduino board, or a VEX micro-controller, the PQ12-R servo will function in place of a regular servo, but with the added benefit of providing linear motion. They're available in a 20mm stroke coupled with gear ratio options of 30:1, 63:1 and 100:1 cover a large variety of applications. Our PQ12 is popular used in a variety of robotics applications, medical devices, radio control and 3D printable bionic hands. Our PQ12 is proudly designed in Canada by our in-house team of engineers and thoroughly tested before leaving our facility.