Bavaria-based Camerobot Systems GmbH has introduced a radical new approach to broadcasting - by bringing state-of-the-art robotics into the studio.
Bavaria-based Camerobot Systems GmbH has introduced a radical new approach to broadcasting - by bringing state-of-the-art robotics into the studio. Camerobot, a robotic system for automating cameras, features a variety of new technological solutions for longstanding challenges on live and virtual sets.

At a time of intense competition among networks, particularly those offering daily news programming, robotic automation opens up new creative possibilities. Camerobot, which was recently updated, ensures constant quality of pictures and frames, thanks to its precision, smooth motion, and ability to shoot from a variety of angles beyond pan and tilt.
A 4-meter operating diameter makes it possible to capture broad sweeps of movement. Tracking shots are programmed in 4ms resolution, guaranteeing smooth motion and flawless synchronization of real time images and virtual overlays, even those containing movement. Camerobot can be controlled either manually with a joystick or in automatic mode via studio automation, wherein an operator programs a pre-set series of locations. An optional aircushion system enables the camera to "walk" through the studio.
A newly redesigned robotic arm from Staubli Robotics features a more force-resistant tilt unit, which minimizes vibration while providing greater agility with lower weight and fewer cables around the attachment interface. The tilt unit is integrated into the control loop of Camerobot's CS8C robot controller - a real-time control system five times faster than video imaging speed, enabling pinpoint precision.
About Camerobot Systems GmbH
Camerobot Systems was founded in 2010 on the basis of technology pioneered by rtLeaders, bringing vast automation expertise to the broadcasting industry. Providing turnkey robotic camera solutions, Camerobot is a global leader in broadcasting automation and studio integration. For more information, visit http://www.camerobot.com.
Featured Product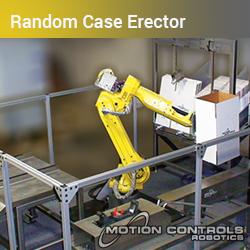 Random Case Erectors are ideal for fulfillment centers and other end-of-line packaging needs. Save money by eliminating changeover downtime. Reduce ergonomic injuries by eliminating repetitive manual tasks. The Random Robotic Case Erector System includes: • FANUC M20iA/20 Robot • Combi gravity case magazine - holds 2 box sizes • Combi bottom flap folder with integrated 3M case sealing head. • Fixed robot base, anchored to the floor • Flexible end of arm tool to pick and erect multiple case sizes to eliminate changeover downtime • System wiring and controls • Color 7.5" touchscreen HMI display for selecting case size • Perimeter guarding with safety interlocks on doors • Programming for Robot, PLC/PMC, HMI and Vision • Complete documentation in electronic format • On-site training and support • Compliance with all applicable robotic safety standards. Alternate safety configuration may be available to allow an operator to changeover a case size in one magazine while the robot continues to work in other magazines. Contact Motion Controls Robotics to learn more about how to implement this system into your current end-of-line operations.