Bavaria-based Camerobot Systems GmbH has introduced a radical new approach to broadcasting - by bringing state-of-the-art robotics into the studio.
Bavaria-based Camerobot Systems GmbH has introduced a radical new approach to broadcasting - by bringing state-of-the-art robotics into the studio. Camerobot, a robotic system for automating cameras, features a variety of new technological solutions for longstanding challenges on live and virtual sets.

At a time of intense competition among networks, particularly those offering daily news programming, robotic automation opens up new creative possibilities. Camerobot, which was recently updated, ensures constant quality of pictures and frames, thanks to its precision, smooth motion, and ability to shoot from a variety of angles beyond pan and tilt.
A 4-meter operating diameter makes it possible to capture broad sweeps of movement. Tracking shots are programmed in 4ms resolution, guaranteeing smooth motion and flawless synchronization of real time images and virtual overlays, even those containing movement. Camerobot can be controlled either manually with a joystick or in automatic mode via studio automation, wherein an operator programs a pre-set series of locations. An optional aircushion system enables the camera to "walk" through the studio.
A newly redesigned robotic arm from Staubli Robotics features a more force-resistant tilt unit, which minimizes vibration while providing greater agility with lower weight and fewer cables around the attachment interface. The tilt unit is integrated into the control loop of Camerobot's CS8C robot controller - a real-time control system five times faster than video imaging speed, enabling pinpoint precision.
About Camerobot Systems GmbH
Camerobot Systems was founded in 2010 on the basis of technology pioneered by rtLeaders, bringing vast automation expertise to the broadcasting industry. Providing turnkey robotic camera solutions, Camerobot is a global leader in broadcasting automation and studio integration. For more information, visit http://www.camerobot.com.
Featured Product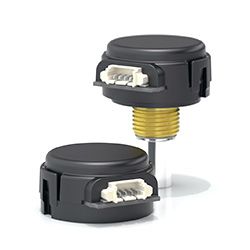 US Digital is pleased to announce the launch of the E4T, their latest series of miniature high performance optical encoders. The E4T series delivers a marked performance increase over similar encoder models and designed to be an enhanced replacement for the E4P encoder series. The E4T utilizes state of the art transmissive optical sensing technology, and incorporates US Digital's own proprietary OptoASIC. Assembly of the E4T is simple and efficient and retains the previous E4P's form factor. Key features of the new E4T include: • Mechanically and Electrically Interchangeable with E4P • Improved Quadrature Signal Strength • 100 kHz Frequency Response • Transmissive Optical Design • Collet Style Push on Optical Disk Design (Patent Pending) • Simple & Efficient Assembly Process As with all of our products the E4T is designed and manufactured in their Vancouver, Washington USA facility and is available for purchase as of December 2014.