DSEi 2011 - Events to be staged in the Robotics and Unmanned Systems Showcase
'UAV Systems Development - Challenges for ISTAR Support' is the title of a briefing to be given by Cranfield University's Professor Ian Poll. Cranfield Aerospace, a wholly owned subsidiary of the university, has a growing capability in the field of Unmanned Air Systems (UAS), with a proven track record in the development of innovative systems. From 11:45 to 12:30, Tues 13 Sept.

Under the heading 'UAV Hangars in Harsh Climes' Sprung Instant Structures's International Sales Manager, Jonathon Fenton, will report on a climate controlled hangar for one of the largest UAVs in operation which has been installed in one of the hottest places on the planet. From 14:00 to 14:30, Tues 13 Sept.
Accumulating flight hours faster than any other mid-endurance UAV System, Insitu's ScanEagle UAS is also the most employable, with a mission-readiness record exceeding 99 per cent. In Sustaining Scan Eagle's 500,000 Flight Hours - the Future of Unmanned Missions, Insitu's International Business Development Director Steve Tanner reviews this impressive capability between 14:45 and 15:15, Tues 13 Sept.
A demonstration entitled 'Foot Patrol in Afghanistan' featuring unmanned air and ground systems, will be staged twice daily at 10:30 and 15:30.
The Robotics and Unmanned Systems Showcase is located in the north west corner of the North Halls - nearest entrance N3.
For information on other seminars happening during DSEi visit http://goo.gl/Hmy3z.
These seminars are open to registered attendees of DSEi 2011. To register visit www.dsei.co.uk/register
Featured Product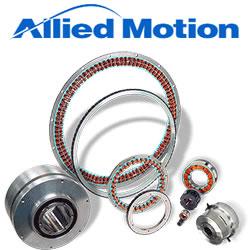 Allied Motion's Megaflux MFH170i series of 170 mm (6.7 in) diameter housed brushless torque motors consists of a high performance brushless DC torque motor, a digital servo drive, and an optical encoder, all integrated into a rugged machined aluminum housing with robust duplex bearings. The MFH0170i series features a 63.5 mm (2.5 in) large-bore through shaft, and is characterized by a very high torque-to-inertia ratio. There are three stack lengths in the series with peak torque ranging from 8.5 up to 16.9 Nm (75 up to 150 lb-in). The standard winding voltage is 48 V. And to ease the hassle of long leadtimes for prototypes, the new MFH170i is now available through our QuickShip program.