Two new industrial-grade panel control models have been introduced by Bourns - a push-pull switch and a rotary switch.
The Model 54 is a new half-inch panel control and is an extension of the Model 51/53 Series with an added double-pole, double-throw (DPDT) push-pull switch module. Secondly, the Model 56 is a new half-inch panel control and is also an extension of the Model 51/53 Series with an added single-pole, double-throw (SPDT) rotary switch module.

Both new products are high-performance alternatives to readily available consumer-grade potentiometers with push-pull and rotary switches. Developed to match the requirements of a broad range of industrial, medical and aerospace / avionics applications, the new panel control models are particularly well-suited for use in test and measurement and communications equipment. The Model 54 is also seen as an optimal solution for medical diagnostic and professional audio equipment, while the Model 56 is designed for use in avionics controls and medical laboratory equipment.
The RoHS compliant models measure 12.5mm and feature metal bushings and shafts, splash seals and a wide range of linear and audio resistance tapers. Rotational life for both models is 50k cycles with contact resistance at 100mohm for Model 54 and 30mohm for Model 56, says the company.
"Bourns' new industrial grade panel controls are significant because they provide the flexibility of a panel control plus push-pull switch or rotary switch in one compact component. In addition, the splash seal provides protection from moisture ingression in a wide variety of applications," said Chuck Manzano, product specialist, Bourns. "The new panel controls provide designers with high-performance alternatives to consumer-grade potentiometers, providing end customers with enhanced reliability and improved performance as required by industrial, medical and avionics applications."
Featured Product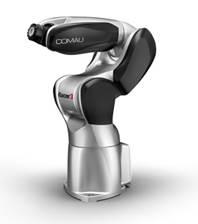 Racer3 is a powerful, high-speed, 6-axis articulated robot featuring a payload of 3kg and a reach of just 630 mm. Built from high-strength aluminum, the newest innovation in Comau robotics is lightweight and can be easily mounted on benches, walls, ceilings or on inclined supports. The third robot within the award-winning Racer family, Racer3 is Comau's response to the growing demand for fast, cost-effective robotic automation within small to medium-sized enterprises and emerging countries. Racer3 is intended for general industry use to increase productivity and reduce overall costs by automating industrial applications. It combines field-proven technology and enhanced dexterity with a keen focus on safety, design and product aesthetics. With a streamlined design and brushed metal exterior, the new powerhouse of a robot combines beauty and speed together with absolute precision and repeatability. Primary applications include assembly, material handling, machine tending, dispensing and pick & place.