Event Co-located with ESC Silicon Valley, March 28-29, 2012 at the McEnery Convention Center, San Jose, CA
SAN FRANCISCO, Sept. 7, 2011 - Design News, the UBM Electronics brand that's the leading technical resource for design engineers throughout the manufacturing sector, today announced the launch of Sensors in Design, the premier event for sensor applications.

Sensors in Design 2012 will be co-located with ESC Silicon Valley, March 28-29, 2012 at the McEnery Convention Center in San Jose, CA. Sensors in Design is the first event to spotlight cutting-edge designs and provide actionable application information for mechanical and electrical engineers who need to incorporate sensors into upcoming products and projects.
"Sensors in Design 2012 is the first 'for engineers, by engineers' event in this arena, with a laser focus on cutting-edge demos, exhibits, and education aimed at electronics, mechanical, and manufacturing technology pros," said Alexander Wolfe, Content Director, Design News. "Our in-depth program tracks and comprehensive show floor will showcase actionable design info for engineers who need to incorporate sensors into upcoming products and projects."
A broad-based technology event encompassing both the traditional electronics and factory/automation sectors, as well as the emerging mechatronics arena, Sensors in Design 2012 will appeal to engineering attendees working in the automotive, computer, consumer-electronics, embedded, industrial, medical, and semiconductor markets. From the exhibitor perspective, the event leverages the strength of the collocated ESC Silicon Valley event while drawing in additional prospective-customer show floor traffic from the Design News ecosystem.
The Sensors in Design 2012 conference program will showcase executive keynotes and plenary panels, how-to technical presentations and three industry focused session educational tracks detailing applications in mobile, wireless sensing, factory, automation, MEMS, and Internet-based sensing. Sessions on tablet, laptop, and consumer-electronics design cases will also be featured. Attendees will learn about the latest smart sensor products and technology and see reference designs and product exhibits spotlighting applications ranging from robotics and automotive to consumer electronics, industrial, and factory and process automation. In addition, the Sensors in Design 2012 exhibit hall will display sensors in action, covering the spectrum from electronics to mechanical to embedded applications.
Featured Product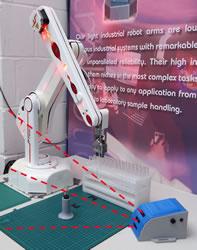 ST Robotics have decades of experience in industrial robots having sold hundreds of robots over the years. The company has 3 main models, R12, R17 and R19 all using a unique simple industrial technology that dramatically reduces costs resulting in the lowest priced industrial robots available. The same uncomplicated technology vastly improves reliability. ST backs this up with a 2 year warranty. Typical applications are routine testing, sample handling and also education. The software is a different paradigm from most robots. It is command based; you type a command and see immediate action. Programming is a building block approach, building confidence as you program in small 'mind-sized bytes'. ST offers free unlimited technical support.