Intro to Linear Motioneering 2.0
You are invited to attend a free webinar for Design Engineers to learn how to use online engineering tools to optimize machine design and save time during the design process. This training will enable you to better understand the available tools - what they are, how to access them, and how to utilize them in your design process. Register here for the FREE live webinar on September 28, 2011. Spaces are limited, so sign up now!

This live online seminar is an event for mechanical motion design engineers at all experience levels. The seminar has been designed to give solid, practical information - not a sales pitch. Register today to learn how to use online engineering tools to optimize design and build better machines.
In 1 hour you will learn:
Thomson Linear Website - A Brief Introduction
General Overview
Web Tools Location
Linear Motioneering 2.0
Sizing and Selection
Configuration and Quoting
Micron Motioneering
Sizing and Selection
Model Number Lookup
Engineer's Toolbar
Downloading
Features
2-D/3-D Models
About the Presenter:
Kyle Thompson, Associate Product Manager - Linear Systems: Kyle has been with Thomson for 5 years and spent time as an Application Engineer and Field Sales Engineer before his current role with the product management team. He received a B.S. in Mechanical Engineering and a B.A. in Mathematics from Virginia Tech
Featured Product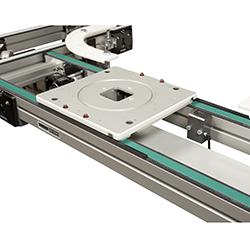 Dorner's 2200 Series Precision Move Pallet Systems feature the latest advancements in pallet traffic management. A unique pin tracking system guides pallets through merges and curves while maintaining product orientation. The fast belt change capability increases efficiency and reduces downtime in assembly automation processes. They are available in lengths up to 25 ft., can handle loads up to 500 lbs. and travel at speeds up to 114 ft/min.