Cable Engineered to Pass the K9 Crush Test Wanted: Extreme engineering challenges. Send us your most demanding application today. Watch the K9 Crush Test Video Now! Find Out What's Next! http://www.northwire.com/ViralvideosOver.php
Cable Engineered to Pass the K9 Crush Test

Wanted: Extreme engineering challenges. Send us your most demanding application today.
Watch the K9 Crush Test Video Now!
Find Out What's Next!
http://www.northwire.com/ViralvideosOver.php
Featured Product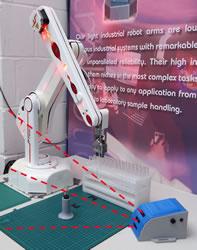 ST Robotics have decades of experience in industrial robots having sold hundreds of robots over the years. The company has 3 main models, R12, R17 and R19 all using a unique simple industrial technology that dramatically reduces costs resulting in the lowest priced industrial robots available. The same uncomplicated technology vastly improves reliability. ST backs this up with a 2 year warranty. Typical applications are routine testing, sample handling and also education. The software is a different paradigm from most robots. It is command based; you type a command and see immediate action. Programming is a building block approach, building confidence as you program in small 'mind-sized bytes'. ST offers free unlimited technical support.