Cable Engineered to Pass the K9 Crush Test Wanted: Extreme engineering challenges. Send us your most demanding application today. Watch the K9 Crush Test Video Now! Find Out What's Next! http://www.northwire.com/ViralvideosOver.php
Cable Engineered to Pass the K9 Crush Test

Wanted: Extreme engineering challenges. Send us your most demanding application today.
Watch the K9 Crush Test Video Now!
Find Out What's Next!
http://www.northwire.com/ViralvideosOver.php
Featured Product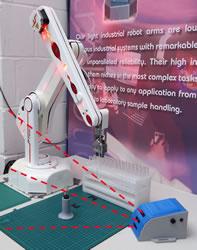 The 6-axis version of the R17HS high speed variant of the R17 robot is now available. As is our policy the 6th axis is an optional bolt-on module. At the same time we have made it even faster and new software eliminates shake and greatly improves repeatability as this video shows. Please see https://www.youtube.com/watch?v=3wG0MeiJ-yE. The video would seem to imply a repeatability of 0.01mm but we are sticking with 0.2mm in the spec. The motor specialist was able to tune the motors from the other side of the pond. My first reaction when we put power on and entered the first commands was to jump back in amazement (and maybe an expletive). Tip speed is now 3m/s; that's 3 times as fast as its nearest competitor yet costs half the price. I love it when a plan comes together.