Following a soft launch over this past summer, www.RoboticsTomorrow.com has officially published its first full online eMagazine issue and followed with its first monthly eNewsletter.
San Diego, California, November 10th, 2011 - RoboticsTomorrow, a new online robotics and industrial automation publication, today announced the publication of its inaugural issue. With fresh articles, case studies and interesting news from around the industry and the globe, RoboticsTomorrow has positioned itself to be a leading resource whether you work in the robotics field or just share an interest for everything robotic.

In addition to the online issue, RoboticsTomorrow has sent out the first monthly eNewsletter to its subscriber base. The eNewsletter is designed to deliver the most popular news and articles from the recent issue directly to your inbox. You can also find RoboticsTomorrow on Facebook and Twitter with direct feeds of industry news and articles.
RoboticsTomorrow.com is a new venture from LJB Management Inc.. The company out of San Diego, CA is a pioneer in the Industry eMagazine concept. 2 other popular publications, HomeToys.com & AltEnergyMag.com, draw in thousands of monthly readers from across the globe. Bob Hetherington, editor and founder of LJB Management, had this to say about the launch of RoboticsTomorrow.com. "We've always been looking ahead to the next industry breakthrough with our publications. In 1996 HomeToys led the way into online publishing about the Home Technology industry. In 2002 we launched AltEnergyMag to cover Alternative Energy, Today we foresee Robotics as the next industry to hit the headlines in a big way."
About RoboticsTomorrow.com
RoboticsTomorrow is a newly launched community website where those of you who work in the Robotics Industry are invited to contribute articles, news and product information for your peers to read and discover. Our philosophy is to create an outlet where the industry can report on itself.
Featured Product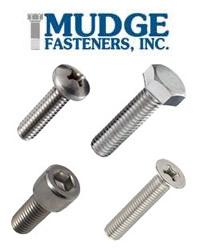 From very small to very large fasteners, in a wide array of materials and platings from stainless steel to cadmium to silver, Mudge Fasteners is a one-stop shop for all Robotics screws, bolts, nuts, washers, inserts, adhesives and more. With over 60,000 products in stock, Mudge also offers custom kitting and packaging, documentation support, specials manufactured to print, performance mockups, fabrication and production consulting.