Teledyne DALSA, a Teledyne Technologies company and a global leader in machine vision technology, today introduced the Piranha HS NIR 8k camera
Teledyne DALSA, a Teledyne Technologies company and a global leader in machine vision technology, today introduced the Piranha™ HS NIR 8k camera. Featuring improved sensitivity in near-infrared (NIR) wavelengths, the Piranha HS NIR benefits from time delay and integration (TDI) technology. The camera is designed to meet the requirements of low light applications such as solar cell inspection, PCB / electronics inspection, large web applications, and food and drug inspection.

"Improved sensitivity in the near infrared region is critical to the success of equipment in a number of applications," said Xing-Fei He, Senior Product Manager at Teledyne DALSA. "The Piranha HS NIR's TDI technology enables multiple exposures for orders of magnitude increases in sensitivity while maintaining low noise performance; this is ideal for high speed and low-noise applications."
The Piranha HS NIR extends Teledyne DALSA's industry leading High Sensitivity (HS) product line and provides a cost-effective solution for imaging in near-infrared wavelengths from 700 to 1050 nanometers. It operates using selectable TDI stages, up to a maximum of 256, and has an area mode of operation for ease of alignment. The camera can be programmed with up to four user sets of coefficients and can utilize mirroring control, forward/reverse control, and flat field correction.
Key Features
-Enhanced sensitivity in NIR and 256 TDI stages provide excellent electroluminescence at 1000 nm wavelengths of light
-High resolution images of 8192 x 256 TDI pixels
-320 Mpix/s throughput and 34.3 kHz line rate allow faster inspection times and higher productivity
-Bidirectional operation greatly reduces cost by simplifying inspection process
-100x anti-blooming
-Camera Link interface
Product Details and Availability
The Piranha HS NIR 8k will be available in Q1 of 2012. For more information on product specifications, please visit the Piranha HS NIR product page. Contact your regional sales representative for more information on planned Piranha HS NIR model release dates. For a full resolution image of a Teledyne DALSA Piranha HS NIR camera, please visit Teledyne DALSA's online media kit. .
About Teledyne DALSA's Machine Vision Products and Services
Teledyne DALSA is a world leader in the design, manufacture and deployment of digital imaging components for the machine vision market. Teledyne DALSA image sensors, cameras, smart cameras, frame grabbers, software, and vision solutions are used in thousands of automated inspection systems around the world and across multiple industries including semiconductor, solar cell, flat panel display, electronics, automotive, medical, packaging and general manufacturing. For more information, please visit www.teledynedalsa.com/mv.
About Teledyne DALSA, Inc.
Teledyne DALSA, a Teledyne Technologies company, is an international leader in high performance digital imaging and semiconductors with approximately 1,000 employees worldwide, headquartered in Waterloo, Ontario, Canada. Established in 1980, the company designs, develops, manufactures and markets digital imaging products and solutions, in addition to providing MEMS products and services. For more information, please visit www.teledynedalsa.com.
Featured Product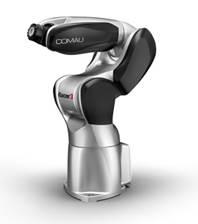 Racer3 is a powerful, high-speed, 6-axis articulated robot featuring a payload of 3kg and a reach of just 630 mm. Built from high-strength aluminum, the newest innovation in Comau robotics is lightweight and can be easily mounted on benches, walls, ceilings or on inclined supports. The third robot within the award-winning Racer family, Racer3 is Comau's response to the growing demand for fast, cost-effective robotic automation within small to medium-sized enterprises and emerging countries. Racer3 is intended for general industry use to increase productivity and reduce overall costs by automating industrial applications. It combines field-proven technology and enhanced dexterity with a keen focus on safety, design and product aesthetics. With a streamlined design and brushed metal exterior, the new powerhouse of a robot combines beauty and speed together with absolute precision and repeatability. Primary applications include assembly, material handling, machine tending, dispensing and pick & place.