Meggitt introduces 993B-7-M12 triaxial vibration sensor with removable cable, improved in-band signal fidelity and a 50% increase in dynamic range.
December 8, 2011 - Meggitt introduces 993B-7-M12 triaxial vibration sensor with removable cable, improved in-band signal fidelity and a 50% increase in dynamic range.

The M12 connector enables an upgrade to the external case resulting in a thicker shell and better resistance to impact. For both route based and permanent mount applications, this full performance triaxial accelerometer hosts three general purpose 100 mV/g vibration sensors with ±10% sensitivity tolerance. The accelerometer has the option of being paired with a removable, flexible cable which can be assembled with an assortment of connectors including BNC, Turck, 11-pin Fischer, and 4-pin Bendix. In permanent mounting applications, having a removable cable and captive mounting screw can accommodate cable runs from any angle. The cost effective benefit of the 993B-7-M12's removable cable is that severed cables no longer mean sensor replacement.
The 993B-7-M12 features a broad frequency range from 2-10,000 Hz on the Z axis, and 2-7,000 Hz on the X and Y axes. Each channel of the 993B-7-M12 has improved amplifiers to minimize the influence of out of band signals, thereby minimizing sensor overload, a condition which renders sensor data unusable. For in-field vibration analysis, the 993B-7-M12 is compatible with most field analyzers and eliminates the need for extensive wiring.
The 993B-7-M12 is suited to the harshest industrial environments. The accelerometer follows the hermetically sealed, ESD protected and EMI/RFI shielded format that has made Wilcoxon Research sensors the standard in many plants worldwide. Reverse wire protection comes standard, to protect the internal circuit from failure, should the input power be misconnected.
The 993B-7-M12 is appropriate for monitoring most industrial rotating equipment including fans, blowers, pumps, compressors, chillers, gearboxes, mixers and motors. Continuous vibration monitoring is easily implemented with the full range of Wilcoxon Research accelerometers.
Featured Product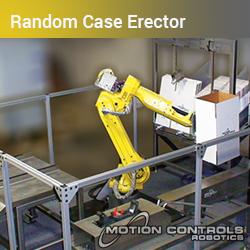 Random Case Erectors are ideal for fulfillment centers and other end-of-line packaging needs. Save money by eliminating changeover downtime. Reduce ergonomic injuries by eliminating repetitive manual tasks. The Random Robotic Case Erector System includes: • FANUC M20iA/20 Robot • Combi gravity case magazine - holds 2 box sizes • Combi bottom flap folder with integrated 3M case sealing head. • Fixed robot base, anchored to the floor • Flexible end of arm tool to pick and erect multiple case sizes to eliminate changeover downtime • System wiring and controls • Color 7.5" touchscreen HMI display for selecting case size • Perimeter guarding with safety interlocks on doors • Programming for Robot, PLC/PMC, HMI and Vision • Complete documentation in electronic format • On-site training and support • Compliance with all applicable robotic safety standards. Alternate safety configuration may be available to allow an operator to changeover a case size in one magazine while the robot continues to work in other magazines. Contact Motion Controls Robotics to learn more about how to implement this system into your current end-of-line operations.