Capable Controls, Inc. Introduces Their Series 5X Microprocessor-Based Intelligent Direct Spark or Intermittent Pilot Ignition Control Module
Capable Controls, Inc. introduces their Series 5X microprocessor based intelligent direct spark or intermittent pilot ignition control modules, designed for OEM and replacement applications.

The 5X series Ignition control module is designed for commercial, residential and industrial systems. This control provides standard wiring and configuration allowing simplified installation and replacement. The internal circuitry monitors system gas valve, wiring and igniter while automatically shutting down the system in the event of a failed or shorted circuit.
The 5X Series has been approved by CSA for US and Canada usage. The microprocessor based design provides software control of all of the thousands of timing options, igniter control, gas valve operation, flame sensing along with safety shutoff/lockout operation and a diagnostic LED.
Other options include: Quick Start, Flame Stabilization, Re-ignition, Spark Restoration, Independent alarm outputs: 5vdc- 24Vac/dc- 120Vac/dc, Combustion Blower Output, Rollout Switch, Universal Model with field selectable DIP switch, along with thousands of various timing combinations.
The 5X has proprietary designed ODL "Optical Data Link" which allows programs to be downloaded wirelessly per custom OEM specifications. This allows Capable to stock base units and install the various custom OEM programs within seconds.
About Capable Controls:
Capable Controls Inc. is a designer and manufacturer of electronic controls. We provide electronic solutions for residential and commercial appliances as well as power tool applications. Our products range from simple discrete electronic designs to more complex microprocessor based controls. Engineering and Corporate offices are located in the Chicago area with manufacturing facilities located in El Paso, Texas. Capable Controls actively participates with customers from product concept through manufacturing to improve performance and reduce product cost, keeping you competitive in today's marketplace. All Capable Controls products are proudly made in U.S.A.
Featured Product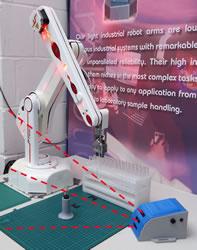 ST Robotics have decades of experience in industrial robots having sold hundreds of robots over the years. The company has 3 main models, R12, R17 and R19 all using a unique simple industrial technology that dramatically reduces costs resulting in the lowest priced industrial robots available. The same uncomplicated technology vastly improves reliability. ST backs this up with a 2 year warranty. Typical applications are routine testing, sample handling and also education. The software is a different paradigm from most robots. It is command based; you type a command and see immediate action. Programming is a building block approach, building confidence as you program in small 'mind-sized bytes'. ST offers free unlimited technical support.