Standardized Robotic Welding Cells Now Available from Wolf Robotics
Fort Collins, CO: Wolf Robotics now offers an assortment of pre-engineered robotic welding cells. LeanArc systems are designed for the flexibility to meet complex application needs, while allowing for simple installation and operation. The systems include all components including: welding robot, positioner, torch, human machine interface, torch cleaner, full operator safety package and welding power supply.

LeanArc systems include virtual models for use in optional offline programming. Optional remote diagnostics and programming services are also available.
LeanArc cells are a cost-effective way to automate your manufacturing processes, improving productivity, flexibility and profitability.
For more information about LeanArc, visit the Wolf Robotics booth #6322 at the 2011 Fabtech show in Chicago, IL. New brochures are now available.
Wolf Robotics LLC, (www.wolfrobotics.com) provides automated solutions for fabricators.
Wolf Robotics, currently has supplied over 8,400 robots worldwide for welding, cutting, press brakes and material removal. For further information about other Wolf Robotic products (http://www.wolfrobotics.com), write to: Wolf Robotics, 4600 Innovation Drive, Fort Collins, CO 80525, call (970) 225-7600 or send an email to: Chuck.Boyer@wolfrobotics.com. To request electronic files of the release and/or photos contact Chuck Boyer at (970) 225-7784.b
Featured Product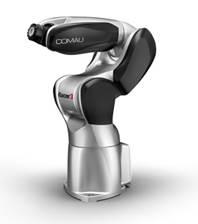 Racer3 is a powerful, high-speed, 6-axis articulated robot featuring a payload of 3kg and a reach of just 630 mm. Built from high-strength aluminum, the newest innovation in Comau robotics is lightweight and can be easily mounted on benches, walls, ceilings or on inclined supports. The third robot within the award-winning Racer family, Racer3 is Comau's response to the growing demand for fast, cost-effective robotic automation within small to medium-sized enterprises and emerging countries. Racer3 is intended for general industry use to increase productivity and reduce overall costs by automating industrial applications. It combines field-proven technology and enhanced dexterity with a keen focus on safety, design and product aesthetics. With a streamlined design and brushed metal exterior, the new powerhouse of a robot combines beauty and speed together with absolute precision and repeatability. Primary applications include assembly, material handling, machine tending, dispensing and pick & place.