Urban Robotics' Highly Scalable 3D Octree-based Format Lays Foundation for Large-Scale Point Cloud Application Standards
Urban Robotics Inc., a leading provider of three-dimensional (3D) imaging sensors, software and algorithms, today announced it is making its highly scalable, spatially searchable and colorized 3D octree-based point cloud format available to the Point Cloud Library (PCL) community.

PCL is a standalone, large scale, open source project for 3D point cloud processing. Willow Garage of Menlo Park, Calif., launched PCL in March, to help accelerate 3D algorithmic work related to robotic applications. It is free for research and commercial use. The addition of Urban Robotics' software code to PCL lays the foundation for the creation of a standardized format for large-scale 3D applications.
Urban Robotics developed its octree-based format to efficiently store and manage point cloud data, and to address challenges related to the rapid processing of massive 3D images during daily operations.
"The main challenge with supported LAS and XYZ point cloud file formats is that they do not scale efficiently. Octree data structures provide an elegant way to offer level of detail support that efficiently scales to extremely large datasets," said Geoff Peters, CEO, Urban Robotics.
Octree formats also allow 3D point cloud data to be spatially indexed and queried, as well as provide the ability to encode image color and other metadata.
"Individual companies are challenged by massive point clouds and, as a result, end up developing proprietary data structures to support 3D visualization and manipulation of these large data sets," said Radu Rusu, research scientist at Willow Garage and PCL founder. "This fragmented approach to point cloud data is holding back the industry from developing truly revolutionary products."
Urban Robotics will work with Willow Garage to port its octree-based format to the PCL framework in early 2012.
"We hope our contribution to PCL will help establish open standards not just for LIDAR data, but also for the emerging dense and massive 3D datasets extracted from standard imagery," said Peters.
The Point Cloud Library is supported by large numbers of engineers, scientists and organizations around the world. "Urban Robotics\' octree-based format is a critical component that will allow innovative companies to focus on 3D product development versus core component development," said Rusu.
About Urban Robotics
Urban Robotics, founded in 2003, is a leading provider of three-dimensional (3D) imaging sensors, software and algorithms for the intelligence, surveillance and reconnaissance (ISR) and remote sensing markets. Urban Robotics provides one-stop shopping for complete digital imagery systems, from collection to post-processing and data management. Its products include aerial 3DEO and NearIR digital sensor systems, high performance aerial and ground computer clusters, and automated 3D algorithms and services for rapidly generating large mapping and modeling datasets. Its dense 3D extraction technology is sensor agnostic, can be applied to massive image sets and is scalable for cloud computing. To find out more, please visit http://www.urbanrobotics.net.
About Willow Garage
Willow Garage develops hardware and open source software for the personal robotics industry. It is based in Menlo Park, Calif., and has developed a beta hardware platform called Personal Robot 2 (PR2), and a list of open source software platforms including the Robot Operating System (ROS), the 2D Computer Vision library OpenCV, and the 3D Point Cloud Library (PCL). The software that Willow Garage contributes to the PCL open source framework is BSD-licensed, making it completely free for anyone to use, change, or commercialize, with a goal of providing robotics technology transparency and positive societal impact. The company actively engages research labs and companies as partners, collaborators, customers and advisors in the development of both their hardware platform and open source software, and also supports researchers with funding open source work. For more information, visit: http://www.willowgarage.com.
Featured Product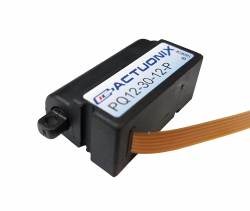 The PQ12-R series of linear servos are the smallest affordable linear servo on the market today. Small enough to fit inside a tic tac box, it's very powerful with a maximum force of over 11lbs. It operates as a direct plug-and-play replacement for standard rotary servos, using the same standard 3 wire connector. Regardless of how you drive your servos, be it with an RC receiver, an Arduino board, or a VEX micro-controller, the PQ12-R servo will function in place of a regular servo, but with the added benefit of providing linear motion. They're available in a 20mm stroke coupled with gear ratio options of 30:1, 63:1 and 100:1 cover a large variety of applications. Our PQ12 is popular used in a variety of robotics applications, medical devices, radio control and 3D printable bionic hands. Our PQ12 is proudly designed in Canada by our in-house team of engineers and thoroughly tested before leaving our facility.