RMT Robotics announces the sale of a small fleet of ADAM Autonomous Mobile Robots (AMR) to a large international manufacturer of industrial products.
Grimsby, Ontario, Canada (Jan. 10, 2012) - RMT Robotics® (www.rmtrobotics.com), a Cimcorp Oy company and the manufacturer and integrator of ADAM™ intelligent mobile robots (www.adamrobot.com), is pleased to announce the sale of a small fleet of ADAM Autonomous Mobile Robots (AMR) to a large international manufacturer of industrial products. The equipment will be installed in the customer's manufacturing facility in Ohio, and the initial system will be operational in the first quarter of 2012.

The ADAM vehicles will be used to automatically transport work-in-process materials and finished goods between robotic production machines and the storage system.
"We are thrilled that the ADAM AMR solution will be a key element of our customer's modernization plan for this and other facilities in the future," said Bill Torrens, director of sales and marketing, RMT Robotics. "The client chose the ADAM solution from a field of competitors as the only AGV system that supports limitless layout options for their production machines and provides on-demand, random origin to random destination intralogistics ideal for their manufacturing area."
ADAM Intelligent Mobile Robots
ADAM is an intelligent mobile robot that independently performs random origin to random destination transport of work-in-process materials and finished goods in lean manufacturing and assembly applications. ADAM is designed to perform missions autonomously, navigating around fixed and moving objects, free of guide wires, reflectors or transponders.
To download an image of ADAM, please click here: http://koroberi.com/images/rmt/ADAM_Mobile_Robot2.jpg.
For more information, please contact Bill Torrens, Director of Sales and Marketing, RMT Robotics, at billtorrens@rmtrobotics.com.
For media information, please contact Sarah Murphy, Public Relations, Koroberi, Inc. (www.koroberi.com), by phone at 919-960-9794 or by e-mail sarah@koroberi.com.
About RMT Robotics
RMT Robotics (www.rmtrobotics.com), a Cimcorp Oy Company, is a global company that manufactures and integrates turnkey robotic gantry-based order fulfillment and tire handling solutions designed to reduce operating costs and streamline operations.
To extend the flexibility of robotics beyond a fixed workspace, RMT Robotics also manufacturers and integrates ADAM™, the category-defining intelligent mobile robot. The ADAM system redefines the purpose and function of industrial AGVs by performing intelligent robotic transport of materials in complex, random origin to random destination industrial environments.
Since 1981, RMT Robotics has been recognized around the globe as an innovator in robotics materials handling. RMT helps our customers compete in an increasingly aggressive and price-sensitive global marketplace by providing best-in-class robotic handling solutions.
Featured Product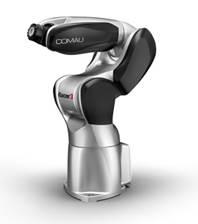 Racer3 is a powerful, high-speed, 6-axis articulated robot featuring a payload of 3kg and a reach of just 630 mm. Built from high-strength aluminum, the newest innovation in Comau robotics is lightweight and can be easily mounted on benches, walls, ceilings or on inclined supports. The third robot within the award-winning Racer family, Racer3 is Comau's response to the growing demand for fast, cost-effective robotic automation within small to medium-sized enterprises and emerging countries. Racer3 is intended for general industry use to increase productivity and reduce overall costs by automating industrial applications. It combines field-proven technology and enhanced dexterity with a keen focus on safety, design and product aesthetics. With a streamlined design and brushed metal exterior, the new powerhouse of a robot combines beauty and speed together with absolute precision and repeatability. Primary applications include assembly, material handling, machine tending, dispensing and pick & place.