ATI Sponsors Free RIA Webinar February 16th, 2012
ATI Industrial Automation is sponsoring the Robotic Industries Association (RIA) free webinar, "The Basics of Robot End-Effectors" on Thursday, February 16th from 12:00 noon to 1:00 pm EST.

With video, narration and broad coverage by an experienced veteran, this webinar describes robot end-effectors such as parallel jaw, vacuum, and magnet based solutions. Solution approaches such as two or three position grasps and servo based designs give viewers options to consider. Force and torque sensing techniques are described. The webinar covers grip compliance, collision avoidance and breakaway options.
You can register for this free webinar here:
https://www1.gotomeeting.com/register/474144808
For more information about RIA and the robotics industry, visit www.robotics.org or contact RIA Headquarters at 734-994-6088.
Featured Product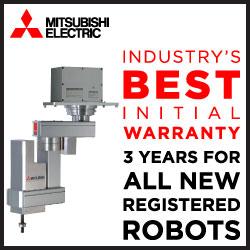 Registering your Mitsubishi Electric Automation robot unlocks the full potential of Mitsubishi Electric Automation's industry-leading three year cleanroom or on-site service initial limited warranty for robots purchased on or after October 1, 2014.