New Adept Courier Delivers a ROI Never Before Seen in Automated Material Handling
Adept Technology, Inc. (Nasdaq:ADEP), a leading provider of intelligent robots and autonomous mobile solutions, announced their launch of the new Adept Courier, a groundbreaking approach to automating the movement of goods. The company will be demonstrating how the Adept Courier addresses the currently unmet market needs in automated material handling and logistics at their Booth 4228 in Atlanta's Georgia World Congress Center from February 6-9, 2012. More information is available at http://go.adept.com/modex2012.

The Adept Courier is a small autonomous vehicle that simplifies the everyday task of moving goods, materials, samples, or parts around an office or production environment. Using self-navigation software, the Adept Courier finds its own way to destinations, drives around obstacles in its path, and can be deployed in a matter of hours. These features help deliver impressive returns on invested capital while requiring no modifications to an existing facility. The Courier can be requested from a wireless call box located at operator stations and dispatched using pre-programmed destination buttons located on the vehicle. The Adept Courier robustly packages the latest technology from over fifteen years of robotics research and software deployment to satisfy non-linear material handling requirements by simply driving itself between various locations within any type of facility.
"Adept is excited to introduce its newest product line to manufacturing, distribution, logistics, and supply chain professionals attending MODEX," says Rush LaSelle, vice president and general manager of mobile robots. "We are anticipating an enthusiastic response to this product, which solves an array of material handling challenges in a manner permitting deployment and operation by non-technical personnel."
The Adept Courier enables more efficient use of human capital and near infinite flexibility in the movement of goods which are key tenants in "Lean methodology". Lean has been embraced across a broad range of industries as a way to preserve value with less work. Eliminating waste along the value stream means creating processes that require less human effort, less space, less capital, and less time to distribute products and services with less costs and fewer defects. The Adept Courier addresses three primary contributors of waste associated with the manual handling of materials (transport, motion, and waiting) by automatically moving goods safely and reliably within any operating environment.
About MODEX 2012
MODEX 2012 is the industry's newest expo for the manufacturing, distribution and supply chain industries. Held February 6-9, 2012 in Atlanta's Georgia World Congress Center, MODEX 2012 will offer over 500 exhibits, 3 Keynotes, 70 Education Sessions, and multiple collocated education and networking events. Learn more and register for free admission at www.MODEXShow.com.
About Adept Technology, Inc.
Adept is a global, leading provider of intelligent robots and autonomous mobile solutions and services that enable customers to achieve precision, speed, quality and productivity in their assembly, handling, packaging, testing, and logistical processes. With a comprehensive portfolio of high-performance motion controllers, application development software, vision-guidance technology and high-reliability robot mechanisms with autonomous capabilities, Adept provides specialized, cost-effective robotics systems and services to high-growth markets including Packaging, Medical, Disk Drive/Electronics, and Solar; as well as to traditional industrial markets including machine tool automation and automotive components. More information is available at http://www.adept.com.
Featured Product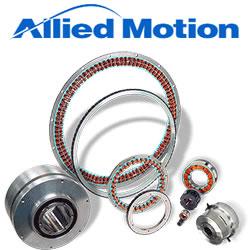 Allied Motion's Megaflux MFH170i series of 170 mm (6.7 in) diameter housed brushless torque motors consists of a high performance brushless DC torque motor, a digital servo drive, and an optical encoder, all integrated into a rugged machined aluminum housing with robust duplex bearings. The MFH0170i series features a 63.5 mm (2.5 in) large-bore through shaft, and is characterized by a very high torque-to-inertia ratio. There are three stack lengths in the series with peak torque ranging from 8.5 up to 16.9 Nm (75 up to 150 lb-in). The standard winding voltage is 48 V. And to ease the hassle of long leadtimes for prototypes, the new MFH170i is now available through our QuickShip program.