Certification Verifies Kiva's Commitment to Excellence in Product Quality and Client Experience
NORTH READING, Mass.-- Kiva Systems, a developer of game-changing mobile-robotic solutions that automate order fulfillment and distribution operations, today announced it has implemented and met the standards for ISO 9001 certification. The scope of this certification includes solution design, testing, manufacturing, consulting, services delivery and technology support of software, firmware and hardware.

"At Kiva, the ongoing and long-term partnerships we have with our customers is an essential element of our client's overall experience with our solution"
"Achieving ISO 9001 is a demonstration of Kiva's commitment to quality in the design, manufacture and distribution of our mobile-robotic solution, and an acknowledgement of the world-class manufacturing operation we've built in North Reading, Mass.," said Benge Ambrogi, vice president of product and program management at Kiva. "This certification encompasses all the processes and services necessary to deliver a superior client experience as we grow aggressively and our client-base expands globally. ISO 9001 compliance is critical in the medical device and aerospace sectors, where product and service quality is paramount."
Kiva uses hundreds of robotic drive units that bring inventory on mobile shelves directly to workers, allowing easy and efficient access to all inventory items at all times to fulfill orders. Unlike legacy material handling equipment, the Kiva solution handles products of all shapes and sizes, is easy to implement and eliminates wasteful time spent walking the warehouse floor. Kiva is a complete automation solution that encompasses inventory control, forward replenishment, picking, packing, shipping, sortation, finishing and quality assurance that triples warehouse productivity, while simultaneously increasing the speed, accuracy and flexibility of the operation.
"At Kiva, the ongoing and long-term partnerships we have with our customers is an essential element of our client's overall experience with our solution," adds Amy Villeneuve, COO at Kiva. "With this certification, we can continue to grow and evolve our business with the world-class processes and industry standards of excellence our clients have come to expect from us."
About ISO 9001
ISO 9001 is a set of basic business principles written in a standard format for quality management systems that is accepted around the world. Currently, businesses in more than 100 countries have adopted the ISO 9001 international standard. The standard is intended for the Quality Management System assessments and registrations to ISO 9001. The standards apply uniformly to organizations of any size or description.
About Kiva Systems
Kiva Systems, Inc. offers game-changing automation solutions for distribution centers that help companies simplify operations and reduce costs while increasing strategic flexibility. Using hundreds of autonomous mobile robots and sophisticated control software, the Kiva Mobile-robotic Fulfillment System enables extremely fast cycle times with reduced labor requirements, from receiving to order picking to shipping - all without conveyor. The result is a building that is quick and low-cost to set up, inexpensive to operate, and easy to change. For more information about Kiva Systems and its solutions, please visit www.kivasystems.com.
Featured Product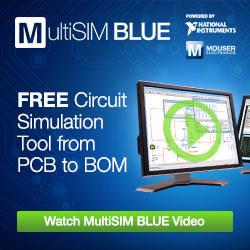 Powered by NI, MultiSIM BLUE Upgrade includes schematic capture, simulation, PCB layout, BOM-to-cart capabilities using only one tool. No more switching between different programs for circuit design. Perform MCU co-simulation. New voltage, current and power probes as well as faster active analysis mode are also available. Plus, it even comes with an expansive database of new components from industry-leading manufacturers. Discover why EDN named MultiSIM BLUE a HOT 100 Product of the Year.