Bohl Crane Utilizing QC-40 Tool Changers
Bohl Crane has been in the lifting business for over 80 years, offering turnkey systems to include complete design, fabrication, installation, and service for all manner of material handling. Providing quality, rated, below-the-hook lifting devices for nearly 25 years, Bohl Crane focuses on safety, as well as ASME and OSHA compliance. Bohl Crane serves a wide variety of customers from automotive and foundry sectors to medical and food industries.

In a recent project, Bohl Crane designed custom lifting devices in which a model change requirement created a unique challenge. Due to an alternating pattern in the model run for a specific assembly line, the end user needed to change out lifting devices under the same crane to handle multiple model types. The solution: ATI's QC-40 Automatic Tool Changer. Troy Willett, product manager for engineered lifting devices at Bohl Crane, had this to say about the enhanced capabilities of the lifting device that utilizes ATI's Tool Changer: "In the past, we would have offered the end user at least two separate lifting devices that would have taken a fair amount of time to change between. Now we can offer a total solution that costs less and changes between various models in under ten seconds."
ATI offers a wide selection of Tool Changer models to cover a variety of applications. All ATI Tool Changers feature their patented Fail-Safe Locking Mechanism and No-Touch Locking™ technology. Key features include excellent repeatability, high rigidity, and a lightweight and compact design.
Featured Product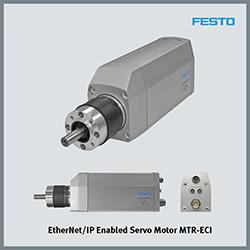 Mechatronic Motion Solutions from Festo is a unique system of components, modules, and software. It integrates all types of pneumatic, servopneumatic and (electro)mechanical automation motion and combines them according to your task. Irrespective of the control system environment you use, Mechatronic Motion Solutions always provides the appropriate interfaces. The fingers can be actively moved and their strength amplified; the operator's hand movements are registered and transmitted to the robotic hand in real time. The objectives are to enhance the strength and endurance of the human hand, to extend humans' scope of action and to secure them an independent lifestyle even at an advanced age.