Zaber's A-BLQ-E series products are computer controlled, belt-driven linear stages with integrated stepper motors and controllers
Zaber's A-BLQ-E series products are computer controlled, belt-driven linear stages with integrated stepper motors and controllers. A built-in rotary encoder allows closed-loop operation with slip/stall recovery features. They are stand-alone devices requiring only a standard 48 volt power supply for operation. A knob at the end of the stage permits smooth manual control; press and hold to switch between velocity and displacement mode and turn to move the stage.

The stages connect to the RS-232 port of any computer and can be daisy-chained with up to 254 A or T-series devices per chain. Convenient 6-pin mini din cables on the unit allow for direct interconnection between units in close proximity. For longer distances, standard cable extensions can be used.
With travel lengths up to 2.1 m, and a maximum speed of 2.0 m/s, A-BLQ-E stages are perfect for rapid positioning over large distances. Their high load capacity and excellent torsional stiffness make them suitable for large payloads, while 10 µm repeatability allows these stages to be used for precise positioning as well.
Summary:
• 70, 145, 295, 445, 595, 1045, 1495, 2095 mm travel
• Up to 2 m/s speed, 18 N thrust, and 20 kg load capacity
• Encoder position feedback with slip/stall detection & automatic recovery
• Built-in controller daisy chains with other A and T-series products
Click on the link below for additional information-
http://www.servo2go.com/product.php?ID=105414
For more information, please contact:
EDITORIAL CONTACT:
Warren Osak
sales@servo2go.com
Toll Free Phone: 877-378-0240
Toll Free Fax: 877-378-0249
www.servo2go.com
Featured Product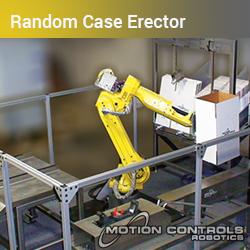 Random Case Erectors are ideal for fulfillment centers and other end-of-line packaging needs. Save money by eliminating changeover downtime. Reduce ergonomic injuries by eliminating repetitive manual tasks. The Random Robotic Case Erector System includes: • FANUC M20iA/20 Robot • Combi gravity case magazine - holds 2 box sizes • Combi bottom flap folder with integrated 3M case sealing head. • Fixed robot base, anchored to the floor • Flexible end of arm tool to pick and erect multiple case sizes to eliminate changeover downtime • System wiring and controls • Color 7.5" touchscreen HMI display for selecting case size • Perimeter guarding with safety interlocks on doors • Programming for Robot, PLC/PMC, HMI and Vision • Complete documentation in electronic format • On-site training and support • Compliance with all applicable robotic safety standards. Alternate safety configuration may be available to allow an operator to changeover a case size in one magazine while the robot continues to work in other magazines. Contact Motion Controls Robotics to learn more about how to implement this system into your current end-of-line operations.