Robots have streamlined our process flow through centralized route management and improved in our dock-to-stock timing
Pittsburgh, PA, March 26, 2012 - Cabela's Distribution Center, located in Wheeling, West Virginia,has been using Seegrid's unmanned robotic pallet trucks since July 2010. Seegrid replaced manned

double pallet jack riders and forklifts to reduce labor costs and improve dock-to-stock throughput
times.
According to Aaron Purman, Operations Manager for Cabela's, "Seegrid robots provided Cabela's
with the cost savings solution we needed." He also noted that Cabela's looked to Seegrid robots to
reduce manned long haul transports, handle the high variety of product flow, and provide the flexibility
to change routes easily.
"Robots have streamlined our process flow through centralized route management and improved
in our dock-to-stock timing, as we now partner our delivery process with the use of the robots,"
stated Purman. The robotic pallet trucks have increased operational efficiency by improving receipt
to putaway time, optimized product flow, and reduced labor costs.
"Cabela's is a loyal Seegrid customer that shares our vision for innovation and driving cost savings
by eliminating non-value-added movement within a warehouse," said David Noble, Director of Sales
and Marketing.
About Seegrid:
Founded in 2003, based in Pittsburgh, Pennsylvania, Seegrid Corp. (http://www.seegrid.com) brings
robotic vision-guided technology to the material handling industry. With more than thirty years of
innovation and research by the leading robotic scientists, engineers, programmers and logistics
practitioners worldwide, Seegrid's exclusive Robotic Industrial Trucks are revolutionizing the
movement of materials in manufacturing and distribution environments.
Seegrid's technology transforms industrial vehicles into un-manned, automated pallet trucks and tow
tractors that operate without the need for wire, tape, laser or other costly automated guided vehicle
(AGV) guidance systems. Seegrid offers solutions that optimize workflow processes by increasing
productivity and reducing costs, creating economic and operational advantages.
About Cabela's Incorporated:
Cabela's Incorporated, headquartered in Sidney, Nebraska, is a leading specialty retailer, and the
world's largest direct marketer, of hunting, fishing, camping and related outdoor merchandise. Since
the Company's founding in 1961, Cabela's has grown to become one of the most well-known outdoor
recreation brands in the world, and has long been recognized as the World's Foremost Outfitter.
Through Cabela's growing number of retail stores and its well-established direct business, it offers a
wide and distinctive selection of high-quality outdoor products at competitive prices while providing
superior customer service. Cabela's also issues the Cabela's CLUB Visa credit card, which serves
as its primary customer loyalty rewards program. Cabela's stock is traded on the New York Stock
Exchange under the symbol "CAB".
Featured Product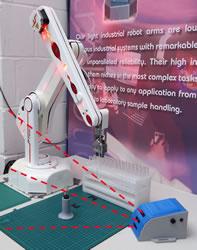 ST Robotics have decades of experience in industrial robots having sold hundreds of robots over the years. The company has 3 main models, R12, R17 and R19 all using a unique simple industrial technology that dramatically reduces costs resulting in the lowest priced industrial robots available. The same uncomplicated technology vastly improves reliability. ST backs this up with a 2 year warranty. Typical applications are routine testing, sample handling and also education. The software is a different paradigm from most robots. It is command based; you type a command and see immediate action. Programming is a building block approach, building confidence as you program in small 'mind-sized bytes'. ST offers free unlimited technical support.