To better support the needs of its North American customers
arch 15, 2012, Troy, MI

IPR Robotics, LLC has moved its design and production of custom Robot End of Arm Tooling (EOAT) to Troy, MI to better support the needs of its North American customers. IPR Robotics is affiliated with IPR - Intelligente Peripherien fuer Roboter GmbH in Schwaigern, Germany, and started U.S. operations in 2003. Over the last six months, a major change in IPR business strategy has occurred, resulting in jobs moving to Michigan. Previously the majority of Robot EOATs required to fulfill North American orders were designed and built in IPR's German headquarters.
"When IPR started operations in Michigan we were a Sales and Technical Support group", said Dan Peretz, VP of North America. "Our business has now grown to the point that it made sense to invest in a team that could fully support local design and fabrication of custom EOAT solutions for our Robot System Integrator customers. We are fully responsible for design and assembly, and have selected a strong group of Partner Suppliers, the majority of which are located in Southeast Michigan, to support our manufacturing processes. Our design and project management approach allow us to gather the input required from our customer, design the tooling solution, and overlap this with fabrication, assembly and validation processes to optimize the delivery of the tool that meets the needs of the project in the shortest time possible."
"It's great to be able to source work to other Michigan manufacturers and to be in the position to hire Michigan workers", said Peretz. "We have grown from two people in 2010 to now having fourteen employees in our Troy location. We continue to be supported from our German parent with a broad line-up of standard components that are utilized in our EOAT designs. We also get more in-depth application development assistance when required from our German colleagues. The strength of our business is that we can provide local support with speed and agility, while leveraging the technology development strength of our parent company."
IPR also offers a broad family of 7th axis rails for robotic applications. These components that make up these rail products are currently manufactured in Europe and assembled per application in Troy, MI. As this segment of the business grows, plans will be made to move the manufacturing of these components to Michigan as well.
IPR Robotics, LLC is affiliated with IPR - Intelligente Peripherien fuer Roboter GmbH, located in Schwaigern, Germany, which has been in business since 1989. IPR's global product offering includes a broad range of standard end-of-arm components including grippers, compliance wrists, alignment devices, tool changers, load limiters and force/torque sensors, along with 7th axis robot rails. IPR Robotics, LLC has been in the US since 2003 and excels at combining these components into complete EOAT solutions to meet the needs of each application. IPR provides the Hands and Feet of robots! www.iprrobotics.com
Featured Product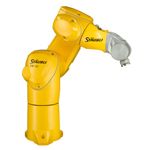 TX2 series of robots: the next generation of fast and precise 6-axis robots. This new robot range is redefining performance with the optimum balance of speed, rigidity, size and envelope. Those pioneer robots can be used in all areas, including sensitive and restrictive environments thanks to their unique features. Known worldwide for the quality of our design and innovation for more than a century, the Stäubli Group has brought its renowned engineering expertise and technological ingenuity to the forefront of robotics. Since 1982, we have built a highly regarded robotics business, and more significantly, transformed the way thousands of manufacturing operations perform. Today Stäubli Robotics is a leading player in robotics around the world, consistently delivering engineering as effective and reliable as our service and support.