Automation becomes easy for the Plastics Industry with the KUKA KR QUANTEC Series
NPE 2012

SHELBY TOWNSHIP, Mich. & ORLANDO, Fla.--Automation becomes easy with the North American introduction of the KR QUANTEC K Shelf-mounted robots at NPE April 2nd - 5th, 2012 in the KUKA Robotics Booth #213.
KUKA Robotics will be introducing the KR QUANTEC K shelf-mounted robot generation for the first time in North America with the debut of the QUANTEC KR 120 R3900 Ultra. The KR QUANTEC K ultra weighs in at 270 kg, has a reach of 2900 mm and payload capacity of 120 kg, making it the world's strongest shelf-mounted robot with the highest power density. The new KR QUANTEC Series of shelf-mount robots also includes the KR QUANTEC K Prime. KR QUANTEC K Prime is the perfect shelf-mounted robot for any application with payloads ranging from 90 kg to 210 kg.
Meeting the requirements of the plastics industry
The new KUKA QUANTEC K shelf-mounted robots are about 12% lighter making the new series significantly easier to mount on injection molding machines. With the latest state-of-the-art drive technology and the new KR C4 controller, the QUANTEC K robots achieve 25% shorter unloading times. Due to the extremely low base, they have an even greater downward reach -optimizing the unloading of injection molding machines. Another superior feature of the new shelf-mounted robots is that axis 2 is located 400 mm further forward, significantly expanding the working envelope forwards and downwards. The hole pattern for installation on the shelf has remained the same and the flange is identical, ensuring compatibility with predecessor models.
Additional booth demonstrations
The KUKA Robotics booth will feature the highly accurate KR 60-3 HA in a simulated foam milling display. The KR 60-3 HA is known for maximum accuracy and it's continuous-path process makes it ideal for detailed milling of mold cavities, mold pockets and mold polishing.
KUKA will also demonstrate a plastic bottle handling and packaging cell with the KR 5 sixx utilizing an ATI tool changer. With the help of the ATI tool changer the KR 5 Sixx will demonstrate its ability to switch efficiently between plastic bottles and an Apple iPad®. The KR 5 sixx is a user friendly, fast handling, small robot with an IP 65 classification allowing it to stand up to dust and water exposure, perfect for fast handling applications and clean room situations.
About the KUKA Robot Group
KUKA Robotics Corporation along with KUKA Roboter GmbH, Augsburg Germany (part of the KUKA Aktiengesellschaft group of worldwide companies), ranks among the world's leading suppliers of industrial robots and material handling vehicles. Core competencies include the development, production, and sale of industrial robots, controllers, software, linear units, and omniMove™ omni-directional motion platforms. KUKA robots are utilized in a diverse range of industries including the appliance, automotive, aerospace, consumer goods, logistics, food, pharmaceutical, medical, foundry and plastics industries as well as multiple applications including material handling, machine loading, assembly, packaging, palletizing, welding, bending, joining, and surface finishing. KUKA robots range from 5kg to 1300kg payloads, and 635mm to 3900mm reach, all controlled from a common PC based controller platform. The company is the market leader in Germany and Europe and the number three in the world. KUKA Robot Group employs about 2750 people worldwide. In 2011, sales totaled 616,3 million Euro. 25 subsidiaries provide a presence in the major markets of Europe, America and Asia.
Featured Product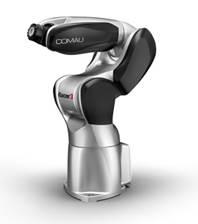 Racer3 is a powerful, high-speed, 6-axis articulated robot featuring a payload of 3kg and a reach of just 630 mm. Built from high-strength aluminum, the newest innovation in Comau robotics is lightweight and can be easily mounted on benches, walls, ceilings or on inclined supports. The third robot within the award-winning Racer family, Racer3 is Comau's response to the growing demand for fast, cost-effective robotic automation within small to medium-sized enterprises and emerging countries. Racer3 is intended for general industry use to increase productivity and reduce overall costs by automating industrial applications. It combines field-proven technology and enhanced dexterity with a keen focus on safety, design and product aesthetics. With a streamlined design and brushed metal exterior, the new powerhouse of a robot combines beauty and speed together with absolute precision and repeatability. Primary applications include assembly, material handling, machine tending, dispensing and pick & place.