AeroVironment (NASDAQ: AVAV) announced it received a firm fixed-price order valued at $2,431,440 on April 5, 2012 from the U.S. Air Force for Puma AE small unmanned aircraft systems (UAS) through an existing U.S. Army contract. Delivery is scheduled within two weeks.
AeroVironment (NASDAQ: AVAV) announced it received a firm fixed-price order valued at $2,431,440 on April 5, 2012 from the U.S. Air Force for Puma AE™ small unmanned aircraft systems (UAS) through an existing U.S. Army contract. Delivery is scheduled within two weeks.

"More military services are choosing the Puma system because its longer duration and more precise imagery deliver enhanced organic reconnaissance, " said Tom Herring, AeroVironment senior vice president and general manager of Unmanned Aircraft Systems. "The Air Force already employs our RQ-11B Raven and Wasp small unmanned aircraft systems. With the Puma small UAS they will have a more comprehensive set of capabilities for force protection and force multiplication, anywhere and at any time."
The United States Special Operations Command (USSOCOM) selected the Puma UAS in 2008 for its AECV program after a full and open competition, the fourth U.S. Department of Defense competition for programs of record involving small UAS and the fourth such competition won by AeroVironment. In 2011 the United States Army assumed management of the AECV program. Each Puma system consists of three air vehicles and two ground control systems. The air vehicle carries an integrated electro-optical and infrared gimbaled video camera, is designed for enhanced survivability in land and maritime environments, and can operate effectively in foul weather and over rugged terrain. Its quiet operation, stabilized imagery and precision landing capability make Puma systems easy to operate and recover. The Puma air vehicle weighs 13 pounds, is battery powered and has a flight endurance of two hours.
# # #
About AeroVironment's Small UAS
Raven®, Wasp™, Puma and Shrike VTOL™ comprise AeroVironment's Family of Small Unmanned Aircraft Systems. Operating with a common ground control system (GCS), this Family of Systems provides increased capability to the warfighter that can give ground commanders the option of selecting the appropriate aircraft based on the type of mission to be performed. This increased capability has the potential to provide significant force protection and force multiplication benefits to small tactical units and security personnel. AeroVironment's UAS logistics operation supports systems deployed worldwide to ensure a consistently high level of operational readiness. AeroVironment has delivered thousands of new and replacement small unmanned air vehicles. International purchasers of AeroVironment's small UAS include the armed forces of Italy, Denmark, the Netherlands, Spain, France, Norway, the Czech Republic, Thailand and Australia.
The Qube™ small UAS is tailored to law enforcement, first response and other public safety missions. Small enough to fit easily in the trunk of a car, the Qube system can be unpacked, assembled and ready for flight in less than five minutes, giving the operator a rapidly deployable eye in the sky at a fraction of the cost of manned aircraft and large unmanned aircraft.
About AeroVironment, Inc.
AeroVironment is a technology solutions provider that designs, develops, produces, supports and operates an advanced portfolio of Unmanned Aircraft Systems (UAS) and electric transportation solutions. Agencies of the U.S. Department of Defense and allied military services use the company's electric-powered, hand-launched unmanned aircraft systems extensively to provide situational awareness to tactical operating units through real-time, airborne reconnaissance, surveillance and communication. Multiple government agencies have helped to fund the development and demonstration of Global Observer®, a hybrid-electric, stratospheric UAS designed to provide affordable, persistent reconnaissance and communication over any location on the globe. Switchblade™ is a loitering munition designed to provide a rapid, lethal, pinpoint precision strike capability with minimal collateral damage. AeroVironment's electric transportation solutions include a comprehensive suite of electric vehicle (EV) charging systems, installation and data services for consumers, automakers, utilities and government agencies, power cycling and test systems for EV developers and industrial electric vehicle charging systems for commercial fleets. More information about AeroVironment is available at www.avinc.com.
Featured Product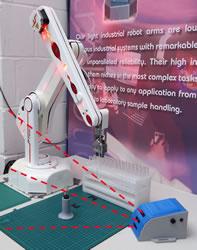 ST Robotics have decades of experience in industrial robots having sold hundreds of robots over the years. The company has 3 main models, R12, R17 and R19 all using a unique simple industrial technology that dramatically reduces costs resulting in the lowest priced industrial robots available. The same uncomplicated technology vastly improves reliability. ST backs this up with a 2 year warranty. Typical applications are routine testing, sample handling and also education. The software is a different paradigm from most robots. It is command based; you type a command and see immediate action. Programming is a building block approach, building confidence as you program in small 'mind-sized bytes'. ST offers free unlimited technical support.