HOUSTON, April 25, 2012-- FMC Technologies, Inc. (NYSE: FTI) announced today that it has completed the transaction to acquire the remaining 55% of the outstanding shares of Schilling Robotics LLC ("Schilling").

FMC had previously announced on January 3, 2012, its intention to purchase the remaining outstanding shares of Schilling and increase its ownership to 100 percent.
Schilling is a leading producer of remotely operated vehicles (ROVs), ROV manipulator systems, control systems and other high-technology equipment and services for oil and gas subsea exploration and production. The company has offices in Davis, California; Houston, Texas; and Aberdeen, Scotland.
FMC Technologies, Inc. (NYSE: FTI) is a leading global provider of technology solutions for the energy industry. Named by FORTUNE® Magazine as the World's Most Admired Oil and Gas Equipment, Service Company in 2012, the Company has approximately 14,900 employees and operates 27 production facilities in 16 countries. FMC Technologies designs, manufactures and services technologically sophisticated systems and products such as subsea production and processing systems, surface wellhead systems, high pressure fluid control equipment, measurement solutions, and marine loading systems for the oil and gas industry. For more information, visit www.fmctechnologies.com.
Featured Product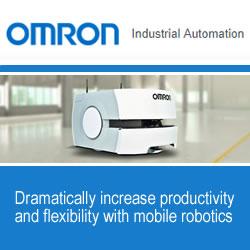 The Omron Adept Lynx Cart Transporter is an Autonomous Intelligent Vehicle (AIV) designed to attach to movable carts and transport them from a pickup location to a drop off location. Applications include line-side inventory replenishment, moving flow racks, transporting Work in Progress (WIP) between process steps, and moving finished goods to the warehouse. The Lynx Cart transporter leverages Natural Feature Navigation to autonomously find a path through the facility without the need for any facility modifications necessary.