May 2, 2012

Zurich, Switzerland and Memphis, Tennessee, - ABB Ltd (NYSE: ABB), the leading power and automation technology group, and Thomas & Betts Corporation (NYSE: TNB), a North American leader in low voltage products, today announced that Thomas & Betts shareholders have voted to approve the merger agreement pursuant to ABB acquiring Thomas & Betts for $72 per share in cash.
Of the shares voted at today's special meeting 99% were voted in favor of the approval of the merger agreement, which represents approximately 75% of Thomas & Betts' total outstanding shares of common stock as of the recorded date for the meeting.
Approval of the merger agreement by Thomas & Betts shareholders satisfies one of the conditions to complete the acquisition of Thomas & Betts by ABB. The closing of the acquisition remains subject to clearance by the European Commission and the Canadian antitrust authorities and the other closing conditions set forth in the merger agreement. The transaction has already been cleared by the US and Turkish antitrust regulators. While a definitive closing date cannot yet be determined, ABB and Thomas & Betts continue to expect that the transaction will close in mid-2012.
Featured Product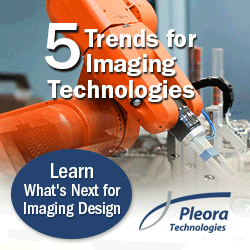 Technology development moves at a dizzying pace and the machine vision industry is no exception. Specific to imaging there is consistent innovation aimed at improving efficiencies, costs, and intelligence. Over the past 12 months, for example, new USB3 Vision™ products have driven the design of higher bandwidth, plug-and-play solutions for imaging applications. What's next for machine vision? This article examines five trends that are expected to influence imaging system design. Sign up at right to receive news and updates on the latest vision technology for medical imaging and you'll receive Five Trends for Imaging Technologies free!