Flat-fee agreements help manufacturers avoid unplanned downtime, reduce maintenance costs and improve budget predictability
In response to customer requests for simplified, easy-to-understand support for automated manufacturing systems, Rockwell Automation announces the availability of Assurance Integrated Support agreements. The agreements are available for one flat fee and enable users to choose one of four Assurance packages that best meets their needs. Each Assurance package offers differing timeframes for guaranteed arrival of replacement parts, the arrival time of a service professional, and the speed at which Rockwell Automation responds to telephone technical assistance.

"Our customers asked for a simplified support option that would provide more financial predictability," explained Blake Moret, senior vice president, controls products and solutions. "By providing flat-fee integrated support agreements that combine our industry-leading remote and on-site support with guaranteed parts delivery, our customers have a clear understanding of annual support costs. Instead of dealing with maintenance administration, they're able to focus more on system productivity and profitability."
Each Assurance agreement begins with an equipment audit to inventory the Rockwell Automation installed base used in the plant. This process helps identify spare parts needs, as well as any potential maintenance issues that may arise. Each agreement also provides annual health checks performed by a team of engineers to proactively identify potential issues and recommend solutions.
"These types of agreements are rare in the automation space, and demonstrate a forward-thinking approach to customer service," said Kevin Crisafulli, senior automation services analyst, ARC Advisory Group. "By providing fixed-price services in a timely manner, Rockwell Automation continues to align its success with that of its customers."
Should an issue arise with the customer's Rockwell Automation products, an Assurance Integrated Support agreement allows users to make a single phone call to Rockwell Automation TechConnect phone support, staffed 24/7 by knowledgeable, experienced service technicians. A Rockwell Automation specialist will then help repair the issue remotely, or if need be, send parts or on-site service within a certain timeframe. Regardless of the service outcome, customers pay only a single flat fee on an annual basis, which helps reduce administrative hassles and time-consuming expense approval processes. Assurance Integrated Support agreements are currently available in the United States and Canada, and will be released on a global basis by the end of 2012.
About Rockwell Automation
Rockwell Automation, Inc. (NYSE: ROK), the world's largest company dedicated to industrial automation and information, makes its customers more productive and the world more sustainable. Headquartered in Milwaukee, Wis., Rockwell Automation employs over 21,000 people serving customers in more than 80 countries.
Featured Product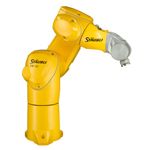 Stäubli offers a complete range of robotic tool changing systems for payloads of 20 kg to 1,530 kg and torsion moments from 30 to 12,500 Nm, designed for use in virtually every industry. The tool changers adapt to customer-specific applications with different modules for media, data, power, etc. The new MPS 130 robotic tool changer is powerful, very robust, and designed for a huge range of applications. It features multiple couplings for air/vacuum connections, and can be equipped with connectors for data and electrical transmission. Very compact dimensions, with a coupled height of only 67 mm, make the MPS 130 the first choice for applications requiring a high number of mating cycles.