American Grippers Inc is proud to participate in collaborative opportunities when they have the potential to lead to innovation and the advancement of robotics technologies and is committed to advancing tomorrow's leaders in robotics and manufacturing. AGI supported a Worcester Polytechnic Institute student's efforts to integrate a pneumatic gripper into a Haas machining center - resulting in reduced labor costs and the increased flexibility of a CNC machining center.
Trumbull, CT May 11, 2012

As a leading developer and designer of Pneumatic Grippers, AGI American Grippers Inc. of Trumbull, CT, recently donated pneumatic automation equipment to WPI student Corey Stevens for completion of his Major Qualifying Project - a criteria for the completion of his Robotics Engineering degree from Worcester Polytechnic Institute (WPI) in Worcester, Massachusetts. In order to meet the requirements of his undergraduate program, Corey needed to demonstrate his understanding of robotics by producing a solution to a current challenge in automated technologies. He chose to develop a Robotic Manipulator as part of a HAAS machine center for machine tending and loading. For the project that involves gripping and rotating a part, Corey needed a pneumatic automation component able to perform these operations with ease and reliability.
WPI is a top-ranked US Engineering schools and "is the first [in the country] to offer Bachelor's, MS, and PhD degrees in Robotics Engineering." This, according to Professor Michael A. Gennert, Director of Robotics at WPI, is indication of "WPI's commitment to providing hands-on, practical education to tomorrow's Robotics Engineers." As a donor of essential components, AGI is a crucial link in the chain - and contributes in a significant way to the development of Robotics Engineers of the future.
Corey sought out AGI for backing of his project because their devices "represent the best in American-made robotics currently available on the market." Corey is using an AGM-2 pneumatic gripper - rotary module from AGI to manipulate the parts for his MQP, and is adamant that the AGI component is indispensable to his project.
According to Pete Farkas, President of AGI American Grippers Inc, "AGI is proud to participate in collaborative opportunities when they have the potential to lead to innovation and the advancement of robotics technologies" and was thrilled when Corey outlined his project and asked for the support of AGI. Mr. Farkas explains: AGI seeks out "opportunities that solidify our commitment to advance tomorrow's leaders in robotics and manufacturing."
Projects such as Corey's are necessary to the revival of manufacturing in the US. In addition to reducing labor costs by decreasing the number of operators required, and increasing the flexibility of a CNC Machining Center, by employing robotics automation solutions, a manufacturer can reduce cycle times, improve safety and throughput capacity, and increase the pace of production.
AGI manufactures Pneumatic Automation components like grippers, rotaries and linear actuators. Today's sophisticated user of end-of-arm-tooling technology is confident in the capabilities and products of AGI, which are used for a variety of manufacturing processes including: Assembly, Pick and Place, Packaging, Loading & Unloading, and Part Transfer. For flexibility of design and accommodating use in the world-wide market, AGI products are available in imperial and metric versions. Manufacturing facilities the world over trust the automation components designed and manufactured by AGI American Grippers Inc.
Featured Product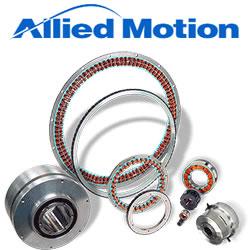 Allied Motion's Megaflux MFH170i series of 170 mm (6.7 in) diameter housed brushless torque motors consists of a high performance brushless DC torque motor, a digital servo drive, and an optical encoder, all integrated into a rugged machined aluminum housing with robust duplex bearings. The MFH0170i series features a 63.5 mm (2.5 in) large-bore through shaft, and is characterized by a very high torque-to-inertia ratio. There are three stack lengths in the series with peak torque ranging from 8.5 up to 16.9 Nm (75 up to 150 lb-in). The standard winding voltage is 48 V. And to ease the hassle of long leadtimes for prototypes, the new MFH170i is now available through our QuickShip program.