Signaling a significant advancement in the company's three-year global expansion
EDINA, Minn.--ReconRobotics, Inc., the world leader in tactical micro-robot systems, announced today that it has established its international headquarters in Lugano, Switzerland, signaling a significant advancement in the company's three-year global expansion. Known as RRI Global SAGL, the new wholly owned subsidiary will oversee all sales, marketing and customer service operations outside of North America. Barry E.T. Harris MBE, the company's Director of International Programs, will lead RRI Global and direct the growth of its international reseller network, which currently extends to 33 countries.

"Having firmly established our leadership in micro-robot systems within the U.S. military and federal and local law enforcement agencies, we now aim to heighten our focus on broadening our already well established international footprint," said Alan Bignall, President and CEO of ReconRobotics. "We believe that the need for sublimely simple life-saving technology is universal among military and police, and we believe that Barry Harris and his team are ideally positioned to fill this unmet tactical capability around the world."
More than 3,500 of the company's Recon Scout systems have been deployed by the U.S. military and international friendly forces, and by hundreds of law enforcement agencies, worldwide. Operators use the Recon Scout system to determine the layout of enclosed spaces, identify potential IEDs and fix the location of friendly, indigenous or enemy personnel. The Recon Scout XT weighs 1.2lbs (544g), and can be deployed in five seconds and thrown up to 120 feet (36m).
About ReconRobotics, Inc.
ReconRobotics is the world leader in tactical, micro-robot systems. The company's Recon Scout® Throwbot® system saves lives by providing immediate situational awareness and greater standoff distance to warfighters and law enforcement personnel. These capabilities protect personnel from hidden threats, enhance mission planning and execution, and minimize collateral damage. The company was formed in 2006 to commercialize robotics technology developed at the University of Minnesota Distributed Robotics Laboratory under funding from the Defense Advanced Research Projects Agency (DARPA). ReconRobotics is based in Edina, Minnesota, USA and markets its products through a distribution network in 33 countries.
Featured Product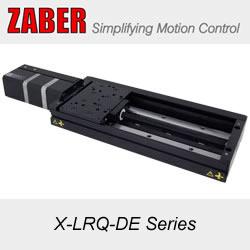 Zaber's new and improved stage (X-BLQ-E) is a closed-loop, belt-driven motorized linear stage with built-in motor encoder and controller. With travel lengths up to 3 m, 10 µm repeatability, and a maximum speed of 2.0 m/s, X-BLQ-E stages are perfect for rapid positioning over large distances. A built-in motor encoder allows closed-loop operation and slip/stall recovery, and an optional indexed knob provides manual control for operation without a computer. Like all Zaber products, the X-BLQ-E Series is designed for easy set-up and operation.