RMT Robotics® (www.rmtrobotics.com), a Cimcorp Oy company and the manufacturer and integrator of ADAM™ autonomous mobile robot (AMR) (www.adamrobot.com), announces the appointment of Bill Torrens as director of the ADAM Systems Group. In this new capacity, Torrens will lead the ADAM Systems Group in
RMT Robotics Appoints Bill Torrens as Director, ADAM™ Systems Group

Torrens to lead ADAM Systems Group for continued global expansion of ADAM AMR
Grimsby, Ontario, Canada (June 4, 2012) - RMT Robotics® (www.rmtrobotics.com), a Cimcorp Oy company and the manufacturer and integrator of ADAM™ autonomous mobile robot (AMR) (www.adamrobot.com), announces the appointment of Bill Torrens as director of the ADAM Systems Group. In this new capacity, Torrens will lead the ADAM Systems Group in the continued accelerated global growth of ADAM AMR.
Torrens is new to his role as director of ADAM Systems Group, but has been a key member of the RMT team for 14 years as director of sales and marketing. In his prior role, Torrens introduced ADAM to markets on a global scale and partnered with sales agents to promote ADAM worldwide. Bolstered from the success of ADAM sales and global expansion, RMT has created the ADAM Systems Group with a dedicated team structure employing engineering, manufacturing, customer care and sales professionals.
"I am thrilled to lead this exceptional team dedicated to the progress of ADAM AMR," said Torrens. "I look forward to continuing ADAM's success and introducing ADAM to new markets worldwide."
Torrens will continue to actively promote the ADAM AMR solution, broadening the sales agents globally while developing the internal teams to accommodate ADAM's rapid growth.
For more information, please contact Lori Vaughan, Marketing Coordinator, RMT Robotics, at lorivaughan@rmtrobotics.com.
For media information, please contact Kim Zdanowicz, Public Relations, Koroberi, Inc. (www.koroberi.com), by phone at +1 919-945-0548 or by email at kim@koroberi.com
About RMT Robotics
RMT Robotics (www.rmtrobotics.com), a Cimcorp Oy Company, is a global company that manufactures and integrates turnkey robotic gantry-based order fulfillment and tire handling solutions designed to reduce operating costs and streamline operations.
To extend the flexibility of robotics beyond a fixed workspace, RMT Robotics also manufactures and integrates ADAM™, the category-defining autonomous mobile robot. The ADAM system redefines the purpose and function of industrial AGVs by performing intelligent robotic transport of materials in complex, random origin to random destination industrial environments.
Since 1981, RMT Robotics has been recognized around the globe as an innovator in robotics materials handling. RMT helps our customers compete in an increasingly aggressive and price-sensitive global marketplace by providing best-in-class robotic handling solutions.
Featured Product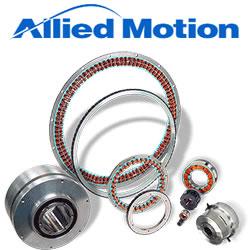 Allied Motion's Megaflux MFH170i series of 170 mm (6.7 in) diameter housed brushless torque motors consists of a high performance brushless DC torque motor, a digital servo drive, and an optical encoder, all integrated into a rugged machined aluminum housing with robust duplex bearings. The MFH0170i series features a 63.5 mm (2.5 in) large-bore through shaft, and is characterized by a very high torque-to-inertia ratio. There are three stack lengths in the series with peak torque ranging from 8.5 up to 16.9 Nm (75 up to 150 lb-in). The standard winding voltage is 48 V. And to ease the hassle of long leadtimes for prototypes, the new MFH170i is now available through our QuickShip program.