Gstarsoft provided new features the upcoming GstarCAD Architecture 2012, bringing new experience to users.
Beijing, China: July 2, 2012- With the previous three released news, users have known more about some features of GstarCAD Architecture 2012 and showed great interest. In this release, user-friendly operation, another highlight of this upcoming version will be unveiled.

People with conventional views think that since CAD software belongs to professional software, its interface should be simple and boring. However, users have high requirements for the interface of the software nowadays. To meet users' requirements, GstarCAD Architecture 2012 adds easy handling DPTL (Design, Project, Tools and Libraries) user interface. And comprehensive functionalities are implemented in the crucial process between design and construction documentation.
The toolkit of this version integrates almost all functions of this software, with a style similar to Outlook. Clearly classified categories on the interface bring convenience to users to access. Besides, beautiful true-color toolbar and intelligent right click menu makes users have visual enjoyment.
Users can rely on GstarCAD Architecture 2012 when it comes to efficiency boost. By use of the Document Tab, users' can switch quickly between the drawings and the right-click menu provides some frequently used operations. What's more, the dialog box can be hided automatically to save space in the drawing area. When the cursor moves onto the toolbar, the dialog box will be unfolded automatically.
In addition, GstarCAD Architecture 2012 provides the quick access to some functions. To edit the objects more flexible, users only need to double click the object that to be edited and double click the blank area to cancel the selection. Users can start the command by one click, no need of press Enter key. Moreover, all architectural components and professional annotation symbols support Ctrl+1 shortcut to edit properties. Last but not least, GstarCAD Architecture 2012 is .dwg compatible, offering convenience for users to reuse old drawings and sharing with others.
About GstarCAD
GstarCAD is fast, powerful, .dwg-compatible CAD software for the AEC, mechanical, manufacturing, electrical, GIS, survey and mapping industries. The world-class 2D/3D CAD software platform is based on IntelliCAD technology.
GstarCAD's powerful functions, .dwg compatibility, and programming platform, are built on a cost-effective solution with an easy to user interface. Gstarsoft ensures that your design inspiration comes true.
Featured Product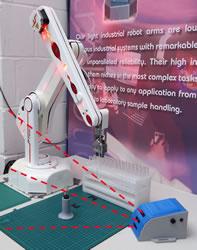 ST Robotics have decades of experience in industrial robots having sold hundreds of robots over the years. The company has 3 main models, R12, R17 and R19 all using a unique simple industrial technology that dramatically reduces costs resulting in the lowest priced industrial robots available. The same uncomplicated technology vastly improves reliability. ST backs this up with a 2 year warranty. Typical applications are routine testing, sample handling and also education. The software is a different paradigm from most robots. It is command based; you type a command and see immediate action. Programming is a building block approach, building confidence as you program in small 'mind-sized bytes'. ST offers free unlimited technical support.