With their groundbreaking combination of sensors, CPU, display and network connectivity, modern smartphones and tablets have all the makings of compact, powerful robotic brains.
July 18, 2012 HOUSTON--As Quantum International Corp. (OTCBB:QUAN) works to capitalize on hot new trends in the booming robotics sector, the technology in your pocket could be poised to spark a billion-dollar explosion in demand for new robotics products.

Apple iPads and iPhones, the same devices that have revolutionized personal computing and communications, could soon do the same for a wide variety of robots. With their groundbreaking combination of sensors, CPU, display and network connectivity, modern smartphones and tablets have all the makings of compact, powerful robotic brains.
As more and more gifted roboticists turn to Apple devices to program, control and connect their projects, the incredible wave of innovation in mobile technology could be set to drive new, smarter robots out of the lab and into the marketplace. Quantum is already making plans to capitalize on this highly promising trend.
"We're already seeing the first wave of high-potential ideas emerge in robotic toys," said Quantum CEO Robert Federowicz. "New products such as Orbotix's Sphero toy and Parrot's AR.Drone quadrotor helicopter have revealed just the tip of the iceberg when it comes to the potential for smartphone- and tablet-ready robots. We think consumer demand for iPhone-controlled robots could increase very sharply as the technology improves, and we're working to position Quantum on the ground floor of this entirely new category."
Even Apple itself could potentially be getting into the robotics industry soon. The talking voice assistant technology known as Siri is already built into the electronics giant's popular iPhone 4s product and could one day prove to be an invaluable piece of a truly game-changing line of user-friendly robots.
Quantum is already pursuing potentially lucrative new robotics targets around the globe. The company recently signed a letter of intent and began due diligence toward a definitive agreement with the Industrial Research Institute for Automation and Measurements (PIAP) in Warsaw, Poland. The company is focused on aggressive growth as it competes alongside robotics companies including Honda Motor Co., Ltd. (NYSE: HMC), AeroVironment, Inc. (NASDAQ: AVAV) and, potentially soon, Apple Inc. (NASDAQ: AAPL).
For more information on Quantum International's robotics initiatives, please visit http://www.quantuminnovators.com/investors.html.
Follow us on Twitter at www.twitter.com/QuantumIntlCorp.
About Quantum International Corp.
Quantum International Corp. (OTCBB: QUAN) is an emerging robotics innovation company working to commercialize the next generation of sophisticated, automated technology. The Company is positioning itself to develop, deliver and market the most cutting-edge innovations in robotics in order to leverage the worldwide demand for the precision, speed, and cost-effectiveness these technologies offer.
For more information about Quantum International Corp., please visit www.quantuminnovators.com.
Featured Product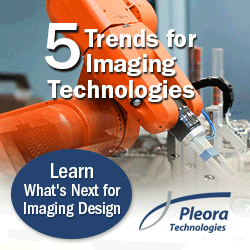 Technology development moves at a dizzying pace and the machine vision industry is no exception. Specific to imaging there is consistent innovation aimed at improving efficiencies, costs, and intelligence. Over the past 12 months, for example, new USB3 Vision™ products have driven the design of higher bandwidth, plug-and-play solutions for imaging applications. What's next for machine vision? This article examines five trends that are expected to influence imaging system design. Sign up at right to receive news and updates on the latest vision technology for medical imaging and you'll receive Five Trends for Imaging Technologies free!