Strong growth in international and U.S. markets fueled 50% growth in Home Robot revenue
BEDFORD, Mass.--iRobot Corp. (NASDAQ: IRBT), a leader in delivering robotic technology-based solutions, today announced its financial results for the second quarter ended June 30, 2012.

*Revenue for the second quarter of 2012 was $111.4 million, compared with $108.1 million for the same quarter one year ago. Revenue for the first half of 2012 was $209.3 million, compared with $214.4 million last year.
*Net income in the second quarter of 2012 was $7.4 million, compared with $8.0 million in the second quarter of 2011. For the first half, net income was $8.0 million, compared with $15.5 million a year ago.
*Quarterly earnings per share were $0.26, compared with $0.29 in the second quarter last year. First-half earnings per share were $0.28, compared with $0.56 in 2011.
*Adjusted EBITDA for the second quarter of 2012 was $16.2 million, compared with $16.3 million in the second quarter of 2011. For the first half, Adjusted EBITDA was $22.3 million, compared with $31.5 million a year ago.
"Our second-quarter performance was very good given the challenging environment. Strong growth in both our international and U.S. markets drove a 50% year-over-year increase in Home Robot revenue. Our steadily increasing Home Robot global reach is enabling us to substantially offset the continuing impact of U.S. government funding on our Defense & Security business and to remain on track to meet our revenue and increase our profit expectations for fiscal year 2012," said Colin Angle, chairman and chief executive officer of iRobot.
Business Highlights
*Home Robot domestic revenues grew 40% year-over-year. The positive impact of our Q2 advertising campaign to reach our target customer, the modern professional, is evident in the second-quarter 2012 results. International revenues grew more than 55% in Q2 over last year. Total EMEA revenue grew 42% in the second quarter over last year and Western Europe, which comprised approximately 30% of Home Robot revenue, grew 40%. As a result, we have increased our full-year expectations for this business unit.
*Our Home Robot product return experience has improved as the result of our sustained investment in product quality. In the second quarter we adjusted our accrual rates for Home Robot product returns, resulting in a benefit to revenue and earnings. Revenue, EPS and Adjusted EBITDA for the company would have been $108.2 million, $0.18, and $12.8 million respectively, without the $3.3 million or $0.08 per share positive adjustment.
*We were awarded three new contracts totaling approximately $27 million for SUGV and PackBot robots, spares and software upgrades. U.S. government funding and program delays, however, continue to negatively impact our Defense & Security business unit. We have reflected that impact in our lower full-year expectations for this business unit.
*We announced, with InTouch Health, the unveiling of the RP-VITA™ telemedicine robot. The robot combines InTouch Health's state-of-the-art telemedicine solutions with iRobot's autonomous navigation capabilities, mobility, interactive communication and situational awareness from the Ava program.
Financial Expectations
Management provides the following expectations with respect to the third quarter ending September 29, 2012 and full year ending December 29, 2012.
Second-Quarter Conference Call
iRobot will host a conference call tomorrow at 8:30 a.m. ET to discuss its results for the second fiscal quarter 2012, business outlook, and outlook for 2012 financial performance. Pertinent details include: Date: Wednesday, July 25, 2012
Time: 8:30 a.m. ET
Call-In Number: 847-413-3235
Passcode: 32828728
A live, audio broadcast of the conference call will also be available at http://investor.irobot.com/phoenix.zhtml?c=193096&p=irol-irhome. An archived version of the broadcast will be available on the same website shortly after the conclusion of the live event. A replay of the telephone conference call will be available through August 1, and can be accessed by dialing 630-652-3042, passcode 32828728#.
About iRobot Corp.
iRobot designs and builds robots that make a difference. The company's home robots help people find smarter ways to clean, and its defense & security robots protect those in harm's way. iRobot's consumer and military robots feature iRobot Aware® robot intelligence systems, proprietary technology incorporating advanced concepts in navigation, mobility, manipulation and artificial intelligence. For more information about iRobot, please visit www.irobot.com.
Featured Product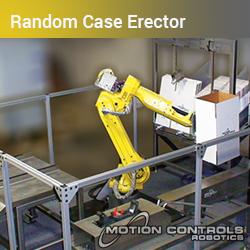 Random Case Erectors are ideal for fulfillment centers and other end-of-line packaging needs. Save money by eliminating changeover downtime. Reduce ergonomic injuries by eliminating repetitive manual tasks. The Random Robotic Case Erector System includes: • FANUC M20iA/20 Robot • Combi gravity case magazine - holds 2 box sizes • Combi bottom flap folder with integrated 3M case sealing head. • Fixed robot base, anchored to the floor • Flexible end of arm tool to pick and erect multiple case sizes to eliminate changeover downtime • System wiring and controls • Color 7.5" touchscreen HMI display for selecting case size • Perimeter guarding with safety interlocks on doors • Programming for Robot, PLC/PMC, HMI and Vision • Complete documentation in electronic format • On-site training and support • Compliance with all applicable robotic safety standards. Alternate safety configuration may be available to allow an operator to changeover a case size in one magazine while the robot continues to work in other magazines. Contact Motion Controls Robotics to learn more about how to implement this system into your current end-of-line operations.