In order to become certified, integrators go through a rigorous process which includes an on-site audit, safety training and hands-on testing of key personnel among other important criteria.
(Ann Arbor, Michigan - August 27, 2012) Genesis Systems Group is the newest robotic integrator to receive the new Certified Robot Integrator designation from the Robotic Industries Association (RIA), the industry's trade group.

"We are very happy to welcome Genesis Systems to our growing group of Certified Robot Integrators," said Jeff Burnstein, President of RIA. "In order to become certified, integrators go through a rigorous process which includes an on-site audit, safety training and hands-on testing of key personnel among other important criteria. Based on feedback from the industry, we believe that achieving certification will be valuable to integrators looking to showcase their capabilities and experience to users and suppliers alike.
"Additionally, the program allows integrators to benchmark their own processes against best industry practices, allowing them to identify areas in which they can improve. This also helps the industry by strengthening the overall integrator channel," Burnstein explained.
The new RIA Certified Robot Integrator program was officially announced in late January at the Robotics Industry Forum in Orlando. A total of eight integrators have now received the RIA Certified Robot Integrator designation.
Each certified integrator will need to be recertified every two years. Detailed information on the certification program and the certified robot integrators can be found on a special section of Robotics Online. Integrators interested in becoming certified also can contact Jeff Burnstein at 734/994-6088.
Here is what Genesis said about the new program:
"Genesis Systems Group is a long-term participant in the RIA and will continue to be for many years to come. Integration of robots to automated manufacturing solutions is our exclusive business. Our practices for documentation, training, and support of our customers are critical for our mutual success. The importance of these services is not always evident to our growing global client base. The RIA Certified Robot Integrator designation provides our potential customers an objective method of evaluating their supply base. This certification is an important step in our pursuit of global business."
Founded in 1974, RIA now represents more than 290 robot manufacturers, system integrators, component suppliers, end user, consulting firms, research groups, and educational institutions. RIA is best known for its biennial Automate Show & Conference (next event slated for January 21-24, 2013 in Chicago); the ANSI/RIA National Robot Safety Standard and annual National Robot Safety Conference (September 24-26, 2012 in Indianapolis); and the annual Robotics Industry Forum (February 20-22, 2013, Orlando). The association also provides quarterly robotics statistics and has a content-rich Robotics Online website attracting hundreds of thousands of visits a year from throughout the world. For more details on RIA, visit Robotics Online or call 734/994-6088.
"Robotics customers, of course, still need to conduct their own due diligence on the suppliers they select," said Burnstein. "RIA cannot guarantee the work of any integrator or recommend which integrators to choose. We have more than 50 system integrator members and look forward to having more of them go through the certification process in the near future."
Featured Product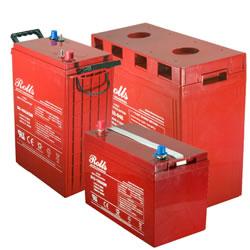 Now, Rolls Battery has introduced a full range of AGM maintenance free batteries to their lineup. Useful in a wide range of installations and backed by a solid reputation, exceptional service and an industry-leading warranty that can only be found with a Rolls Battery. Rolls Battery AGM line is available in 6V, 12V & 2V models and in a variety of size and AH ratings to meet your needs. Each sporting the trusted name, red case, customer service and longevity you've come to depend on from Rolls.