Full Color 3D Printing Brings Designs to Life----- New ProJet 3500 Delivers Precision and Durability
ROCK HILL, S.C., Sept. 6, 2012 -- 3D Systems Corporation

(NYSE:DDD) announced today that it will showcase its comprehensive 3D
content-to-print portfolio at the International Manufacturing Technology
Show, IMTS, September 10 -- 15, 2012 in the Emerging Technology Center at
McCormick Place, Chicago, Illinois.
Manufacturing professionals are invited to check out the new ProJet(TM)
3500, which offers high definition precision and durability for prototypes
and models, real parts and castings. The company will display its extended
ZPrinters line, the only fast and affordable full color 3D printers
available, that brings the value of color to every phase of the product
development process. 3D Systems plans to introduce its affordable and simple
CAD design and 3D printing tools to middle and high school students invited
from the local area.
"We are thrilled to anchor this year's Emerging Technology Center at the
IMTS exhibition and conference," said Cathy Lewis, Vice President of Global
Marketing, 3D Systems. "We are particularly excited to showcase the power of
3D printing and inspire attendees and students alike to get engaged in the
transformation of the entire ideation-to-production process."
Visit 3DSystems.com and learn how the company's customers create with
confidence.
About 3D Systems Corporation
3D Systems is a leading provider of 3D content-to-print solutions including
3D printers, print materials and on-demand custom parts services for
professionals and consumers alike. The company also provides CAD software
and plugins, and affordable consumer create-and-make printers, apps and
services. Its expertly integrated solutions replace and complement
traditional methods and reduce the time and cost of designing new products
by printing real parts directly from digital input. These solutions are used
to rapidly design, create, communicate, prototype or produce real parts,
empowering customers to create and make with confidence.
More information on the company is available at www.3DSystems.com.
Featured Product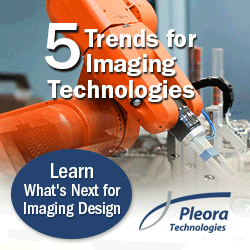 Technology development moves at a dizzying pace and the machine vision industry is no exception. Specific to imaging there is consistent innovation aimed at improving efficiencies, costs, and intelligence. Over the past 12 months, for example, new USB3 Vision™ products have driven the design of higher bandwidth, plug-and-play solutions for imaging applications. What's next for machine vision? This article examines five trends that are expected to influence imaging system design. Sign up at right to receive news and updates on the latest vision technology for medical imaging and you'll receive Five Trends for Imaging Technologies free!