Innovation of worldwide importance - Touchscreen teach pendant presents virtual operating elements. Robot programming with Tablet-PC.
Reis Robotics USA, Inc. will be exhibiting at the Solar Power International (Orlando, Florida, USA; Booth #3063) and IMTS shows (Chicago, IL, USA; Booth #N-6536). Show dates are September 10-15, 2012.

With over 120 automated systems installed, Reis Robotics is the world leader in turnkey integration of PV module manufacturing lines. With office and support operations in Chicago and Los Angeles, Reis offers the most advanced design and project services in North America, and world class customer service and after-sales support. Our robotic automation solutions are used by all major application fields such as solar, welding, casting, foundry, plastics and glass. Reis has provided turnkey line integration on projects up to 600MW. Reis can skillfully help guide line configuration and equipment selection for optimum capex utilization and most competitive operations. From line layout in your factory space, to handing off a fully operating line to your trained staff, maximize your investment while minimizing your risk.
INTRODUCING reisPAD - The reisPAD of Reis Robotics sets new standards in programming and operation of robots. At Solar Power International, Reis will present the innovative portable teach pendant reisPAD in tablet format. The programmer now only operates with a user interface without mechanical and electrical operating elements. A large, scratch-resistant 10.4" Multi-Touch display, low weight, BalancedUse for right/left operation, sharePAD for use of any number of robots and wirelessTEACH are further highlights of the reisPAD. All functions except for Emergency-Off and permission key can be activated via the touch screen. Furthermore, the user interface can be adapted specifically to task and system and to the individual demand. At the same time Reis Robotics always guarantees safe functioning of the system by communication with the reisSafetyController, proven over many years. Come take a look at this industry leading advance in robotic controls!
Featured Product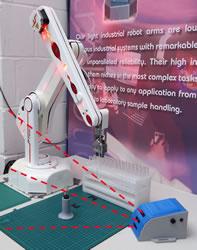 ST Robotics have decades of experience in industrial robots having sold hundreds of robots over the years. The company has 3 main models, R12, R17 and R19 all using a unique simple industrial technology that dramatically reduces costs resulting in the lowest priced industrial robots available. The same uncomplicated technology vastly improves reliability. ST backs this up with a 2 year warranty. Typical applications are routine testing, sample handling and also education. The software is a different paradigm from most robots. It is command based; you type a command and see immediate action. Programming is a building block approach, building confidence as you program in small 'mind-sized bytes'. ST offers free unlimited technical support.