Resin is closest prototype representation to ABS production material of any offering
CHICAGO--EnvisionTEC, Inc., a leading manufacturer and distributor of patented 3D rapid prototyping and manufacturing solutions will showcase the company's expanded range of 3D printing materials at the IMTS exhibition in Chicago. EnvisionTEC announced the launch of their new AB Material resins, with the first two commercially available offerings; the ABflex and ABStuff. These resins enable prototype technologist to produce ABS production quality components in significantly less time and with dramatically reduced economics. When either material is matched with patented EnvisionTEC DLP 3D printers, manufacture components or assemblies that demonstrate mass production quality and characteristics of components produced with industry standard tools and dies.

"Today EnvisionTEC again changed our industry by announcing the release of our new AB resins that have the true replication DNA of production grade ABS. Our new AB material offers long-term UV stability, is fully functional and does not lose any physical characteristics or incur material creep or degradation over time," said Al Siblani, CEO at EnvisionTEC.
The AB material family is globally positioned as the new industry standard in rapid prototyping material for designers and engineers, providing significant capabilities to move quicker from prototyping to production which enhances time-to-value economies of scale for customers.
Today's announcement is driven by customer feedback and is part of EnvisionTEC's commitment to deliver the latest product updates in one convenient installation. EnvisionTEC encourages visitors of IMTS to visit booth E-3151 at IMTS, Chicago from 10-16th September to learn more about the AB material family.
EnvisionTEC, Inc., is a leading manufacturer and distributor of patented 3D rapid prototyping and manufacturing solutions for global organizations focused on time-to-value for their customers. Since their first patent submission 1999, EnvisionTEC has developed and released solutions for desktop application up to large scale enterprises and manufacturers. EnvisionTEC's solution platform provides organizations of any size the capability to rapidly manufacture true to life and functional duplications of any CAD rendering with 3D representation that is unmatched in the industry. With nearly 100 patents, EnvisionTEC enjoys working with a strong customer and partner base in jewelry, automotive, dental, medical, sporting goods, aerospace and consumer packaged goods. Please contact www.envisiontec.com for further details.
Featured Product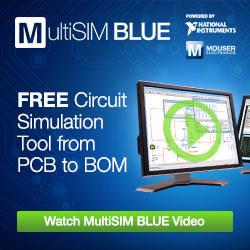 Powered by NI, MultiSIM BLUE Upgrade includes schematic capture, simulation, PCB layout, BOM-to-cart capabilities using only one tool. No more switching between different programs for circuit design. Perform MCU co-simulation. New voltage, current and power probes as well as faster active analysis mode are also available. Plus, it even comes with an expansive database of new components from industry-leading manufacturers. Discover why EDN named MultiSIM BLUE a HOT 100 Product of the Year.